Dassault Systèmes' certification program provides customers, users, partners, students and educators with a globally valuable index for measuring their knowledge and skills against market norms and promoting their proved competency within the ecosystem. 
The certification program also offers valuable feedback on training programs by providing a quantitative before-and-after measurement of trainees' acquired skills. Dassault Systèmes certification is in continuously increasing demand as a skill differentiator required by the industry.
|   | Associate LEVEL Certification | Professional LEVEL Certification |
| --- | --- | --- |
|   | | |
| Objective | Attests the acquisition of knowledge and skills during learning activities | Attests the capacity to perform in a job role in a professional environment |
| Difficulty | Knowledge based | A minimum of 3 months of regular practice is strongly recommended |
| How to | Self-proctored exams available in 3DEXPERIENCE© Edu SPACE | Delivered online at one of our authorized Certification Centers in a proctored environment |
|   | | |
Certification program for Students

Students, discover the certification possibilities available for you!
Empower your profile with the latest certifications based on the 3DEXPERIENCE and get job ready.
Gain Digital badges and boost your employability
Several certifications can unlock a new type of credential: the digital badge. With it:
| | | | |
| --- | --- | --- | --- |
| Access job postings and find a job related to skills assessed by your digital badge. | Share your achievement on social networks. | Be more visible | Promote yourself with a verifiable digital object. |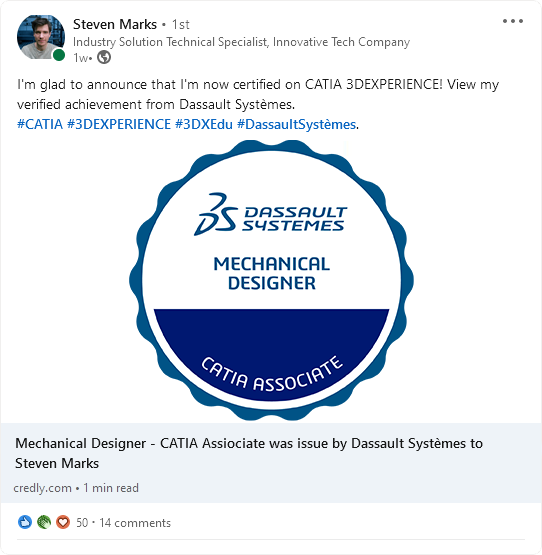 Digital badges are portable, verifiable, and uniquely linked to you. They also ensure that your hard-earned achievements are owned by you. You can access and utilize your digital badge whenever, however you see fit.
Show your achievements to social & professional networks sharing your digital badges in one click from Credly's Acclaim platform. Peers and employers can verify and learn more about what it is you can do thanks to earning a digital credential from Dassault Systèmes.
Boost your career and find new opportunies with Dassault Systèmes' digital badges now!
Click to learn more about Digital Badges
Certification Benefits
For INDIVIDUALS & Students
For Companies & Institutions

Certification is a key success factor for Students and Individuals to obtain better paid job opportunities and increased recognition.

By getting certified you demonstrate your expertise and prove your capability to differentiate yourself from the others in today's increasingly competitive job market. Certification brings credibility to your Curriculum Vitae, leading to significant opportunities for career growth.

Key benefits are:

Increased employability
Better paid job opportunities
Salary increase
Career recognition

Industry Analysts and Experts agree that certifications are one of the most sought after marques of credibility for expertise in the Information Technology marketplace.

Dassault Systèmes' Certification program provides your organization with a valuable index to measure the skills and expertise of your employees, teams, partners, subcontractors, and potential hires.

Key benefits are:

Increased ability to deliver quality projects
Increased capacity to hire skilled people and new talents
Increased competitiveness within the industry market
Valuable indicator for organizations' educational programs
FAQ
If your question is not in the list or you want to learn more about the certification possibilities, you can reach Experts & Peers using the 3DEXPERIENCE Edu dedicated communities.
How do I prepare for an exam?
Getting certified requires serious preparation. Check the certification descriptions thoroughly to see how best to prepare for your Dassault Systèmes' certification exam. All Professional Level Certifications require at least initial hands-on experience in addition to either training at a Dassault Systèmes Authorized Education Partner, your university or school or online via 3DEXPERIENCE© Edu SPACE.
Where and how do I register to take a Professional level certification?
The Professional level exams are delivered at one of our Authorized Certification Centers. You will find the list of the current centers under the
Partners
 section of the website. If you are a student you should also ask your professor whether your university or school has a private Certification Center where you can take your exam.
What do I need to bring when taking a Professional level certification?
On the day of your exam, you will be required to show an official identification document, with a recent photograph (driver's license, passport, or equivalent).  You will take the exam in a room that is dedicated to that purpose. The room is typically monitored via video camera or an exam proctor to deter cheating.  You are not allowed to take anything into the testing room to assist you with your exam. No pencils, pens, pages, additional paper, cell phones or any other device are allowed in the exam area of the testing center.  There will be a confidentiality agreement that you must acknowledge by clicking on an "I agree" button.  When you finish the exam, your score will appear on the screen. If successful, your electronic certificate will automatically be generated and stored in your account for download.
What is the difference between Public & Private Certification Center?
A 'Public' Certification Center is open to anyone who wants to take a Dassault Systèmes exam. A 'Private' Certification Center is dedicated to the University's or School's students. View the current list of our Certification Centers.
How are Associate level certifications delivered?
What is the retake policy?
When you fail an exam, there is a 14-day waiting period before retaking the same exam. Note: when you pass an exam with success, you cannot retake it.
What do I receive when I pass an exam?
When you pass a 3DEXPERIENCE exam with success, you will be granted with a digital badge shareable on social media. Other exams, when passed with success, deliver an electronic certificate that is automatically generated.
No break is allowed during the exams.
What are the Certification levels for CATIA V5 exams?
As a Certified
Associate
you demonstrate that you have achieved a robust level of fundamental knowledge and hands-on experience of modeling techniques and tools.   The
Specialist
Certification demonstrates that you have broadened your knowledge and skills by achieving competence in two of the Associate areas. Example:
as a CATIA V5 Part Design Associate and Assembly Design Associate you become a CATIA V5 Mechanical Design Specialist;
as a CATIA V5 Part Design Associate and Surface Design Associate you become a CATIA V5 Mechanical Surface Design Specialist 
As a Certified
Expert
you can boost your competitive advantage by validating your advanced level of expertise. This certification demonstrates that you have extensive knowledge and hands-on experience in leveraging the optimum results from our solutions.
Education partners: become a Certification Center
Dassault Systèmes relies on its extensive network of Education and Academic Partners, Engineering Schools and Universities to deploy its certification program worldwide. Join the network and develop new business opportunities.