About AAKRUTI
AAKRUTI is a nationwide Product Design contest for undergraduate engineering students in India, sponsored and organized by Dassault Systèmes.
The first AAKRUTI contest was launched in 2011, and since then, it has been evolving and growing each year. AAKRUTI 2022 marks the twelfth year of this competition.
Approximately 4000 to 5000 students participate in AAKRUTI each year. These students come from various institutes across several states spanning the length and breadth of the country.
The main objectives of AAKRUTI are:
Provide a platform for students to demonstrate their creativity, innovative abilities, and engineering skills
Provide exposure to students about the latest trends in technology and industry
Build a bridge between "Academia" and the "Industry."
Each year AAKRUTI is launched with specific themes and problem statements. The students need to identify a particular problem to solve and work out innovative solutions. We expect the participants to cover the entire product lifecycle, starting from market research, conceptual design, and detailed design up to building a functional prototype of their solution. Students participating in the contest have access to the best-in-class software from Dassault Systèmes to facilitate the design and simulation of their solutions.
The AAKRUTI jury panel comprises eminent domain experts from the industry, distinguished professors from the academic world, and technical specialists from Dassault Systèmes. The contest is typically run in multiple rounds.
The top 10 student teams get an opportunity to present their projects in the Dassault Systèmes campus in Pune, amongst whom the final winners are chosen.
 
Contest Starts June 10, 2022
Attention! Students from Engineering Colleges / Design Colleges / Architecture Colleges and students from Management & Social Sciences, you have a great chance to make a difference to the world by coming up with innovative ideas for United Nations Sustainable Development Goals:
You are the Future Leaders and Future Innovators
Do you want to showcase your design skills, creativity, and innate talent?
Then wear your thinking hat ideate and Shape Your Imagination with Dassault Systemes Next Generation Software!
 
Prepare your product idea to participate in the Contest
Boost your innovative mind and think upon generating a unique and creative product idea based on the four themes proposed for this year's challenge.
5 themes to choose from the Sustainable Development Goals
Theme 1 - Good Health & Well Being
Ensuring healthy lives and promoting the well-being for all at all ages is essential to sustainable development.

What to Design? 
Development of products that addresses a real clinical need. That should be affordable, energy-efficient, easy to handle, flexible, do more with less. Product designed should be innovative and will be a great boon to patient/medical practitioners and users. Design affordable, portable and easy to use customized medical equipment. You can also redesign the existing medical equipment in to sustainable product.
How to Design? 
Understand healthcare support needed by common citizens in an easy-to-use, convenient form. Innovation for low-cost, affordable products with simplified design is expected. Teams opting for this theme would be preferred to have a collaboration of one member from Engineering and one from the Medical sciences field.
Who will get the Benefits? 
Doctor, Physician, Patients, common citizens. 
Theme 2 – Affordable and Clean Energy
Energy is central to nearly every major challenge and opportunity.

What to Design? 
It aims to "Ensure access to affordable, reliable, sustainable and modern energy for all. You can also design Expand and upgrade energy services for developing countries.
How to Design? 
Understand the need for clean energy for all. Design a clean energy generation or utilization product to reduce the use of natural resources. The Design should be affordable and easy to use. Upgrading the existing solution and new ideas/concepts/innovation are encouraged.
Who will get the Benefits? 
Common citizens, Industries, and Our Nature. 
Theme 3 – Sustainable Cities
There needs to be a future in which cities provide opportunities for all, with access to basic services, energy, housing, transportation and more.

What to Design? 
You can Design Safe and affordable housing system or you can design Affordable and sustainable public transport systems. Design the product that helps to grow the cities minimizing the use of natural resources.
How to Design? 
Design the affordable design solution or the product to reduce the cost of house manufacturing. You can also design the sustainable public transport system such as bus train and many more.
Who will get the Benefits? 
Urban cities as well as the lower-income earning population.
Theme 4 - Responsible Consumption & Production
Responsible Production and Consumption

What to Design? 
Reduce food losses along production and supply chains, including post-harvest losses. The product should achieve the reduction of food wastage or you can design the product to reduce the wastage of the harvesting.
How to Design? 
Devise a machine, product & process that meets the defined objectives. New ideas/concepts/innovation are encouraged. Avoid reproducing existing products.
Who will get the Benefits? 
Universal Citizen
Theme 5 – Life Below Water
Careful management of this essential global resource is a key feature of a sustainable future.

What to Design? 
While water is viewed as the next big challenge for the world, can we explore ways to optimize its use? Innovate and create the solutions, which will help to minimize water pollution in households, industries, agriculture & public places? Design innovative products/devices even to conserve water, help in preserving life below water, avoid water contamination, and clean the water reservoirs.
How to Design? 
Devise a machine, product & process that meets the defined objectives. New ideas/concepts/innovation are encouraged. Avoid reproducing existing products.
Who will get the Benefits?
Universal Citizen

How to Win the Contest:
Register your team and product / process / and or implementation ideas.
Follow the contest timelines and guidelines posted from time to time in the community.
Submit your initial design concepts, start working on your product design.
Submit your final product design to qualify in the zonal rounds.
Submitted final product designs will undergo evaluations based on judging criteria & Jury vote.
Online zonal contests will be conducted for three zones across India.
In total, the top 30 zonal teams (10 teams from each zone) will be called upon for the online zonal contest. Communication to the teams will be sent over emails, where the teams will present their product designs.
From each zone, the top three teams will be qualified for AAKRUTI 2022 Finale.
Selected teams will be called for the online AAKRUTI 2022 Finale event. To present their ideas to the imminent juries from the Industry, Academia, Technology, and Social sectors.

* AAKRUTI registration extended till 20th July 2022
Registration
Participation in this Contest is entirely free, no purchase or payments are necessary.
Eligibility

The Contest is open to students studying, on a full-time or part-time basis, throughout the Contest until at least December 31, 2022.
Graduated students are not eligible for the Contest.

Recommendation for team composition

Participants need to register with team ("Team") of 2(two) to 4(Four) members. Recommended is 4 for better collaboration.
We would recommend to have one Female member in each of the teams.

Cross Stream participation is allowed/recommended
One "All Girls" team will get special prize for Top Selection
Registration is open until July 20, 2022
*All the qualified entries will get the AAKRUTI 2022 participation certificate.
Click here to create a 3DEXPERIENCE ID
Register now and get free access
To start, pick the solution that's right for you. Just remember, this promo is only for individual students and not for a classroom setting.
3DEXPERIENCE SOLIDWORKS for Education

Grow beyond mechanical design to multi domain product development with the industry-proven capabilities of 3DEXPERIENCE SOLIDWORKS Premium

• Easily and quickly create, review, and evaluate 3D models.
• Collaborate on the cloud and access the growing suite of tools on the platform to manage all facets of your design – accessed, reviewed and approved, anytime anywhere and from any device.
• Featuring part and assembly modeling, 2D drawings and productivity, automation tools, photorealistic rendering, automated cost estimation, reverse engineering, automated design and drawing checking, tolerance analysis, piping, tubing, electrical cable and harness routing design, and advanced surface flattening capabilities.

3D Designer

Enhance SOLIDWORKS 3D CAD with a portfolio of tightly integrated cloud-based solutions built on the 3DEXPERIENCE platform and connect your existing data to the Platform for extended benefits like collaboration, Design Guidance, and sub-D modeling. 3D Designer for Education allows you to:

• Easily and quickly create, review, and evaluate 3D models with 3D Creator and organic shapes with 3D Sculptor, all in your browser.
• Manage team projects and plan key milestones, while seamlessly integrated with SOLIDWORKS CAD, allowing for direct execution of assigned tasks.
• Collaborate on the cloud and access the growing suite of tools on the platform to manage all facets of your design – accessed, reviewed and approved, anytime anywhere and from any device.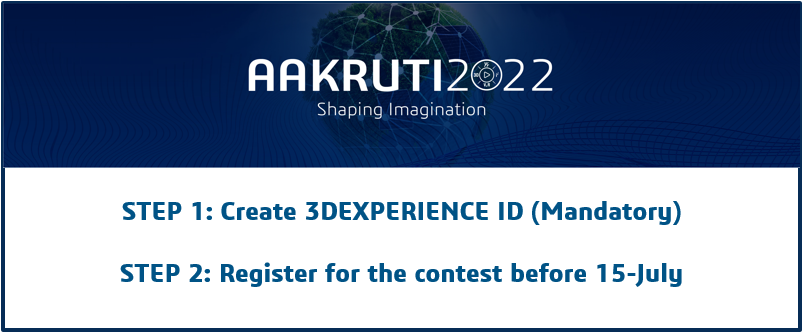 Registration is closed
The participating team will need to request access to 3DEXPERIENCE Platform and SOLIDWORKS application license. After verification, participants will receive access to the 3DEXPERIENCE platform and SOLIDWORKS
After successful registration and access to the 3DEXPERIENCE Platform and SOLIDWORKS, teams need to work upon the detailed design of their product idea and start preparing the 3D design model using SOLIDWORKS
Initial Design Concept Submission
Participating teams need to submit their product title and short synopsis. Before the last date of submission for the initial design concept in provided format to the organizer.
Initial design concept should include a short synopsis of product idea explaining the Product name, theme of the Contest on which the team is submitting the product design; current challenges, short description of how your product is a solution to these challenges, and the basic concept of your product.
Final Product Design Submission
From the start of registration, participating teams will get around 90 days to design their products in detail before the Last date of the Final Submission
Participating team has to submit their final product design in detail including the 3D design model, PowerPoint presentation explaining the product design project in detail based on the guidelines and criteria of the evaluation provided by the organizer.
100 Total possible points
1. Theme Adherence
Creativity (15 points) –
- How innovative is the product? 
- What will be the impact on society if this product is used?
Originality of the concept (10 points)
- Is this a completely new product idea?
- Is it a modification of an existing product - If yes, is this a new idea, or has it been discussed / tried before? 
- How unique is this product?
Design Concept (10 points)
- Was it a very easy design or a complex design?
Is it easy to adapt or use?
2. Product Design
Practicality / Feasibility (10 points)
- Ease of manufacturing / cost of manufacturing
- Feasibility of use in the intended situation & location / completeness of the proposal
Depth of research / Depth of the proposal (10 points)
- Level of detailing of the proposal
- Depth of the thought process.
Detailing of Design (SW Model, Analysis and Rendering) (10 points)
- Level of detailing & rendering in the SW Model / Product Design
- Use of Simulation/Analysis while creating the Model / Product Design
- Parts/Assembly should not be imported (Native CAD data should be from any DASSAULT SYSTEMES software)
Do It Yourself (05 points)
- DIY Report must have complete manufacturing details i.e. Objective, Bill Of Materials, RAW Material details, Assembly Details, Manufacturing Details and Manufacturing Drawings
Prototyping & testing (05 points)
- Does the prototype of the product is prepared? 
- Prototype is functional or non-functional.
3.Activities Participation (10 points)
- Participation in all activities.
- Completion of the activities
4. Jury Assessment
Overall Presentation (10 points)
- Is it capturing the design intent? 
- Has the idea been effectively presented / communicated)
- Effectiveness of Pitch
- Time Adherence for Pitch
Q&A Round (5 points)
- How well have the questions been answered?