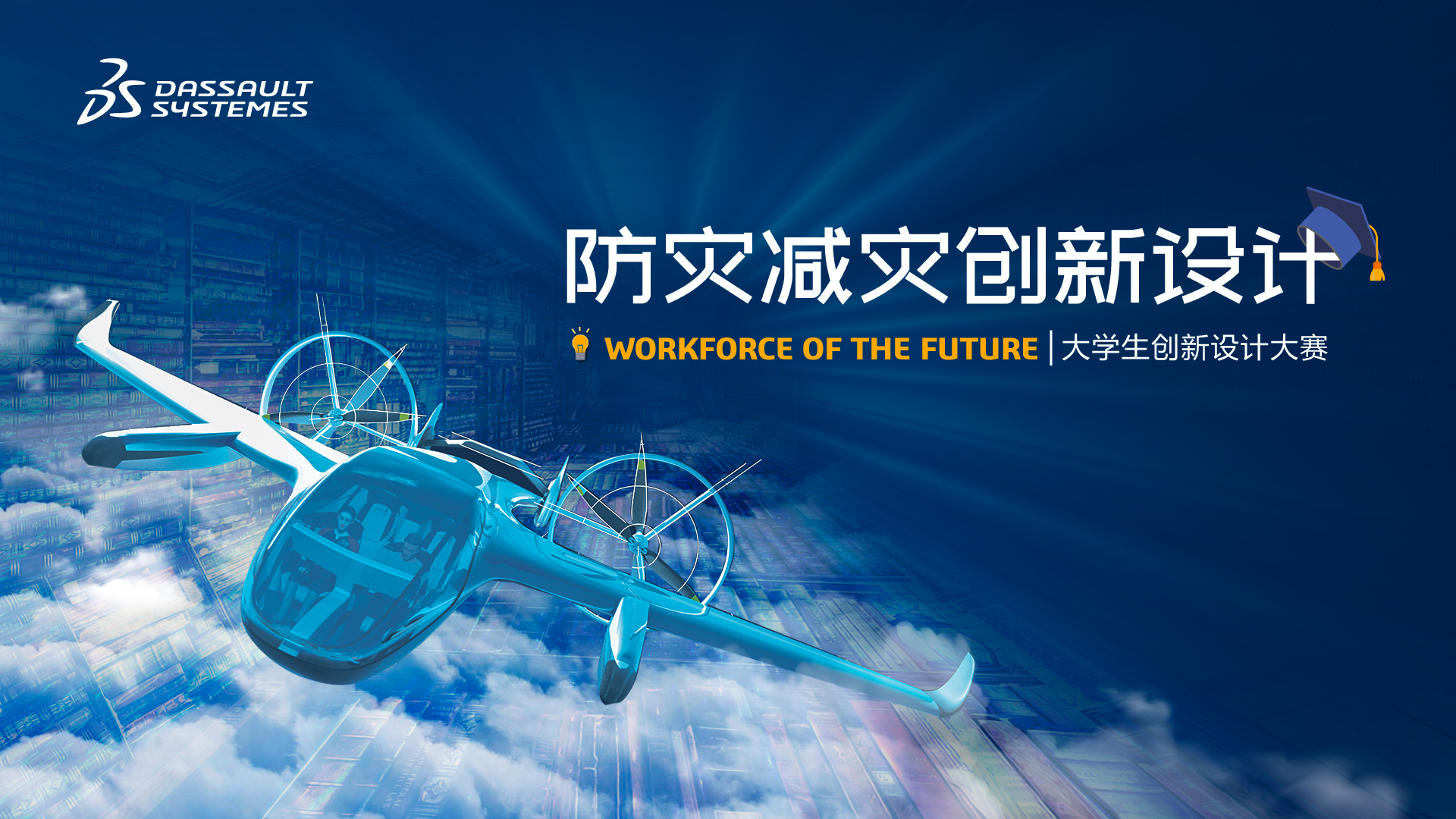 Contest Starts March 18 and ends October 16, 2020
Challenge Overview
The Workforce of the Future (WOF) Student Innovation Design Competition is a professional design contest for students enrolled at Chinese science and technology institutions, organized by the Shanghai Aviation Society and co-sponsored by Northwest University of Technology, Beijing University of Aeronautics and Astronautics, Nanjing University of Aeronautics and Astronautics, Harbin University of Technology, Shanghai Jiaotong University, Tongji University and Dassault Systèmes. The aim is to use Dassault Systèmes' 3DEXPERIENCE platform to boost students' innovation capabilities, reveal 3D design talents with strong innovative potential, develop more creative solutions and create the conditions for remarkable talents to stand out.
The theme of the competition is "Innovative Design for Disaster Prevention and Reduction", promoting the use of science and technology for the benefit of the wider public and emphasizing interprofessional, interdisciplinary teamwork in design.
How to take part
Submission methods(choose between either 1 or 2)
1. Submit your entry and supporting documents directly on the 3DEXPERIENCE platform;
2. Submit your electronic entry through the contest website.
 September 10, 2020 (projects must be submitted via the dedicated website by September 10th at the latest).
130 total possible points
Innovative (35pts)

Practicality (25pts)

User-friendly design (10pts)

Asthetics (20pts)

Environmental protection (10pts)

3D physical model (10pts) - BONUS POINT

Project completed using the 3DEXPERIENCE platform (10pts) - BONUS POINT

Manufacturability (20pts) - BONUS POINT
Be prepared - Get 3DEXPERIENCE for FREE!
Ready to take part in the Dassault Systèmes WOF Student Innovation Design Contest? Register below to obtain free access to 3DEXPERIENCE now!

The 3DEXPERIENCE platform is our latest cloud-based solution, bringing together CATIA, SIMULIA and SOLIDWORKS all in one place.
Who can take part 
The competition is open to full-time undergraduate and graduate students and vocational school students throughout the country. You can take part on your own or in a team of up to six people.  
Onboarding
Get all the learning content you need to start working on the 3DEXPERIENCE Platform in just a few minutes!

Official Website
For more information, please visit our website: Student Innovation Design Contest (in Chinese)
Contact for support
If you have any questions, please contact support.3DSAcademy@3ds.com