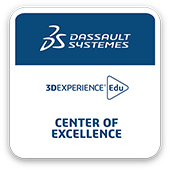 3DEXPERIENCE Edu Centers of Excellence are facilities run by Dassault Systèmes partners, where up-to-date, industry-relevant 3DEXPERIENCE knowledge and know-how is combined with their own expertise and provided for learners through initial or continuing learning programs.
They also welcome students and educators who want to discover the skills needed by industry in an immersive way.
3DEXPERIENCE Edu Centers of Excellence maintain their expertise and equipment up to date to reflect the practices that employers need to deploy. They rely on Dassault Systemes' certification program to validate their skills, they provide consistent expertise and learning for academic and professional learners with our Education Partner Program, and they foster ongoing relationships with our headquarters.   
Real meets virtual

Centers combine physical equipment with the 3DEXPERIENCE platform for students to learn how data is transformed into products and processes. They provide them with up-to-date knowledge about the digital thread, the virtual twin, 3D printing, digital manufacturing, and many more new practices.

Learning meets experience

All required learning resources, expertise and equipment for a given job, are available in a single place.
Centers are ideal places for learning by doing and for learning by projects.

Industry meets learners

Firms help build study programs to ensure employability and competitiveness. They take part in student facing interactions, projects, continuing education, and more. Certification can be provided for students or professionnals.

Youth meets the future

Centers immerse young visitors and their educators in a realistic work environment to show that industry jobs are way more exciting than they think! They provide various learning activities for students and classes.
Read the charter of the 3DEXPERIENCE Edu Centers here
CampusFab




France

CMQ Industrie du Futur Sud




France

K-Tech Center of Excellence in Aerospace & Defence




India

Centro de Innovacion Industrial para el Sector Aeroespacial (CIIA) Chihuahua




Mexico

Purdue University




United States

 
 
 
 
 
 

Illinois Institute of Technology




United States

ZHAW School of Engineering




Switzerland

Long Island University




United States

Hochschule Trier




Germany

 

Visit website
Visit website
Visit website
Visit website (in German)
 
Want to know more? Contact us