Not only has talent scarcity become a new norm for many companies, but digital technologies are profoundly transforming the workplace. Jobs are being transformed and new jobs requiring new skills are emerging. Dassault Systèmes, as a strategic transformation partner for many Industrial customers, plays a unique role in this jobs transformation.
 
Resources: Closing the Skills Gap Whitepaper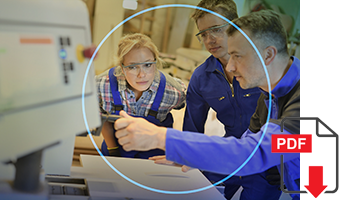 Dassault Systèmes 3DEXPERIENCE Edu with the collaboration of an Edu Board, composed of industrials and academics publish a joint whitepaper to demonstrate how developing relationships between industry and academia is key to reduce the skills gap!
Learn more about the best practice approaches to reducing that gap, and hear from Safran, STMicroelectronics, SCI-Arc, Purdue University, Wichita State University or Arts et Métiers Engineering School and Dassault Systèmes' experts.
Dassault Systèmes reveals the key skills to accelerate manufacturing sector's transformation!
For 40 years, Dassault Systèmes has been the enabler of unparalleled industrial innovation to prepare the workforce of the future for new and evolving skills.
Acquiring those new skills is critical to lead this transformation journey! But what are the skills and disciplines needed by the manufacturing sector to shape a more sustainable future?
Systems Engineering and Mechatronics are key to design complex systems in a multidisciplinary engineering world, Additive Manufacturing to design with more innovative & sustainable materials, Virtual twins to help anticipate, simulate and reduce products' environmental impacts, Data Science to create new sustainable experiences, Digital Logistics to collaborate in the digital factory, etc.
We partnered with Bloom and did a social listening on five social media platforms to analyse how those skills are discussed today and by whom, in order to engage with our ecosystem and let them join the conversations!
Let's Talk about Skills
Today, there is an urgent need for large-scale upskilling and reskilling. Yes, but what are the key skills needed?
Discover them in our latest video: Let's Talk about Skills.

Dassault Systèmes is a member of the European Commission Digital Skills and Jobs Coalition