BECOME A CERTIFIED INNOVATION EXPERT AND BOOST YOUR PROFESSIONAL PROFILE!
The Industry Renaissance is transforming all businesses of all sizes and sectors. Companies have to take decisions faster than ever, leveraging an exponential increase of data and information, while ensuring collaboration between all process stakeholders.
Skill up today! Get the skills you need, develop your knowledge in this domain and open new perspectives for your career!
Key benefits:
• Learn-by-doing and become proficient in your role with the 3DEXPERIENCE® platform
• Master key domain knowledge concepts
• Gain key skills in industry best practices at your own pace
• Shorten your training time and learn anywhere, anytime
• Obtain industry recognition through certificates
• Reduce travel time and expenses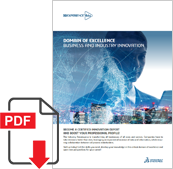 If you want a more detailed view about the Business and Industry Innovation professional transformation, please read the following brochure.
You'll find in it more details about the learning experiences available:
Available
Learning Experiences
Be a Business Innovation Leader

In partnership with INSEAD Business School, this learning experience will inspire you the mind-shift and the knowledge around digital transformation to leverage business models and opportunities. Unleash an open innovation and ensure seamless collaboration across all departments with the 3DEXPERIENCE platform.

Duration: 2 hours

This learning experience is developed in partnership with:

 
 

Be a Business and Industry Innovator

With this Learning Experience, you'll see how the 3DEXPERIENCE platform provides a continuous value creation framework to drive your transformation.Learn how to collaborate with the 3DEXPERIENCE platform and transform your business

Duration: 5:30 hours