BECOME A CYBER-PHYSICAL SYSTEMS EXPERT AND BOOST YOUR PROFESSIONAL PROFILE!
Ready to face the paradigm shift in industry driven by digital transformation with cyber-physical twins of products and their environment?
Ever wondered how companies are tackling the growing complexity of developing cyber-physical systems and highly interconnected systems?
The Cyber-Physical Systems Engineering is a transdisciplinary approach that enables seamless collaboration between siloed departments and ensures optimal traceability. The 3DEXPERIENCE® platform gives you a 360° project view with up-to-date information thanks to a single source of truth.
Don't let the competition pass you by – get the skills you need, validate your expertise in this domain and boost your career opportunities!
Key benefits:
• Gain key skills in industry best practices at your own pace
• Learn with recognized experts in Cyber-Physical Systems Engineering
• Learn-by-doing and become proficient in your role with the 3DEXPERIENCE platform
• Reduce travel time and expenses
• Shorten your training time and learn anywhere, anytime
• Obtain industry recognition through certificates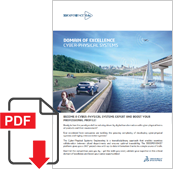 If you want a more detailed view about the Cyber-Physical Systems professional transformation, please read the following brochure.
You'll find in it more details about the learning experiences available:
Available
Learning Experiences
Be a Systems Engineering Leader

Through this Learning Experience, you'll learn how to think as part of a systems approach and apply the values of Systems Engineering. You'll learn about Model-Based Systems Engineering (MBSE) concepts and how to conduct product or service development using a methodological MBSE approach.

Duration: 3 hours