BECOME A DIGITAL FACTORY EXPERT AND BOOST YOUR PROFESSIONAL PROFILE
Today, companies are facing growing complexity in their production processes and a constant increase in product variants. Transitioning to a Digital Factory framework is key to coping with the global scale of planning and production that we see in the modern experience economy.
Don't let the competition pass you by— get the skills you need, validate your expertise in this domain and enhance your career opportunities!
Key benefits:
• Gain key skills in industry best practices at your own pace
• Learn with recognized Digital Factory experts
• Learn-by-doing and become proficient in your role with the 3DEXPERIENCE platform
• Reduce travel time and expenses
• Shorten your training time and learn anywhere anytime
• Obtain industry recognition through certification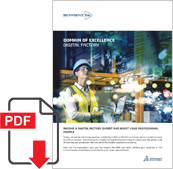 If you want a more detailed view about the Digital Factory professional transformation, please read the following brochure.
You'll find in it more details about the learning experiences available:
Available
Learning Experiences
Digital Factory Domain of Excellence currently provides three Learning Experiences. This learning path contains the domain knowledge related to industrial considerations and applications of the Digital Factory, layout planning and material flow. It also encompass the know-how required to perform in your manufacturing engineer role with the 3DEXPERIENCE® platform.

This professional transformation is developed in partnership with


Be a Digital Factory Leader

Learn all about the Digital Factory, how it works and the economic benefits on offer. Explore the Digital Factory and interact with the end-to-end processes to manufacture a product through a virtual reality experience.

Duration: 04 hours

 
 

Be a Manufacturing Process Planner

This learning experience covers the main areas involved in process planning in the context of the Digital Factory. You'll learn how to create and manage the product, process, and resource (PPR) data model to cover all planning aspects. You'll also learn essential capabilities to simulate workload line balancing between the various systems and workstations of an assembly line to optimize complex production.

Duration: 04 hours

 
 

Be a Layout and Flow Simulation Engineer

This learning experience covers the main areas involved in layout planning and material flow and how it's undertaken in the Digital Factory. This learning path contains the domain knowledge related to industrial considerations and applications of the Digital Factory, layout planning and material flow. It also encompass the know-how required to perform in your manufacturing engineer role.

Duration: 06 hours