BECOME A CERTIFIED LEAN EXPERT AND BOOST YOUR CAREER!
Looking to instill a "culture change" mindset in your company?
Dassault Systèmes 3DEXPERIENCE® platform brings Lean practices that empower people to communicate, organize, and solve problems more effectively leading to end-to-end Digital Lean Transformation.
Skill up today! Get the skills you need, validate your expertise in this critical domain and boost your career opportunities!
Key benefits:
• Learn-by-doing and become proficient in your role with the 3DEXPERIENCE® platform
• Master key domain knowledge concepts
• Gain key skills in industry best practices at your own pace
• Shorten your training time and learn anywhere, anytime
• Obtain industry recognition through certificates
• Reduce travel time and expenses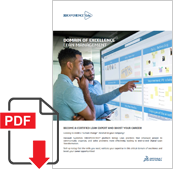 If you want a more detailed view about the Lean Management learning experience, please read the following brochure.
You'll find in it more details about the certification and digital badge rewards :
Available
Learning Experiences
The Lean Management domain of excellence opens new perspectives for individuals to support their career transition. With certifying learning paths, ramp-up on domain knowledge and explore Dassault Systèmes solutions knowledge and know-how.
Be a Digital Lean Yellow Belt

This learning path covers the main areas involved in Lean management and how to lead actively the Lean transformation for operational teams. This learning path contains the domain knowledge related to industrial considerations and applications of Lean methods. It also encompass the know-how required to perform in your lean team leader role.

Duration: 8 hours