BECOME A LIGHTWEIGHT ENGINEER AND BOOST YOUR CAREER!
Lightweight Engineering provides designers with the expert capabilities to minimize part weight, maximize stiffness, reduce costs and optimize material usage. Lightweight Engineer must move beyond conventional ways of working to think outside the box.
So skill up today! Get the skills you need, validate your expertise in this domain and boost your career opportunities!
Key benefits:
• Learn-by-doing and become proficient in your role with the 3DEXPERIENCE® platform
• Master key domain knowledge concepts
• Gain key skills in industry best practices at your own pace
• Shorten your training time and learn anywhere, anytime
• Obtain industry recognition through certificates
• Reduce travel time and expenses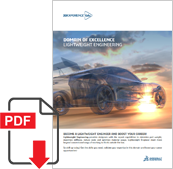 If you want a more detailed view about the Lightweight Engineering professional transformation, please read the following brochure.
You'll find in it more details about the learning experiences available:
Available
Learning Experiences
The Lightweight Engineering domain of excellence currently provides three Learning Experiences. These Learning Experiences in Domains of Excellence offer a breakthrough approach to empowering teams to solve problems and build the workforce of the future. The learning paths, combining knowledge and know-how, are designed to accelerate the industry digital transformation.
Be a Lightweight Engineering Leader

This learning path will teach you how easy creating optimized lightweight products can be. It contains knowledge and know-how of the lightweight engineering strategy that provides industry leaders with the expert capabilities to minimize part weight, maximize stiffness, reduce cost and optimize material usage.

Duration: 03 hours

 
 

Be an Additive Manufacturing Engineer

This learning experience provides a systematic learn-by-doing approach to key Additive Manufacturing processes. It covers the domain knowledge related to industrial considerations and applications of additive manufacturing (Design and Manufacturing). It also covers the know-how required to perform in your role with the 3DEXPERIENCE platform.

Duration: 12 hours

 
 

Be a Composites Engineer

This learning path provides a systematic learn-by-doing approach about design concepts for the Composite Designer as well as the impacts of materials in composites. It covers the domain knowledge related to industrial considerations and applications of composite design and composite materials. It also covers the know-how required to model design parts using composite materials.

Duration: 14 hours