next
prev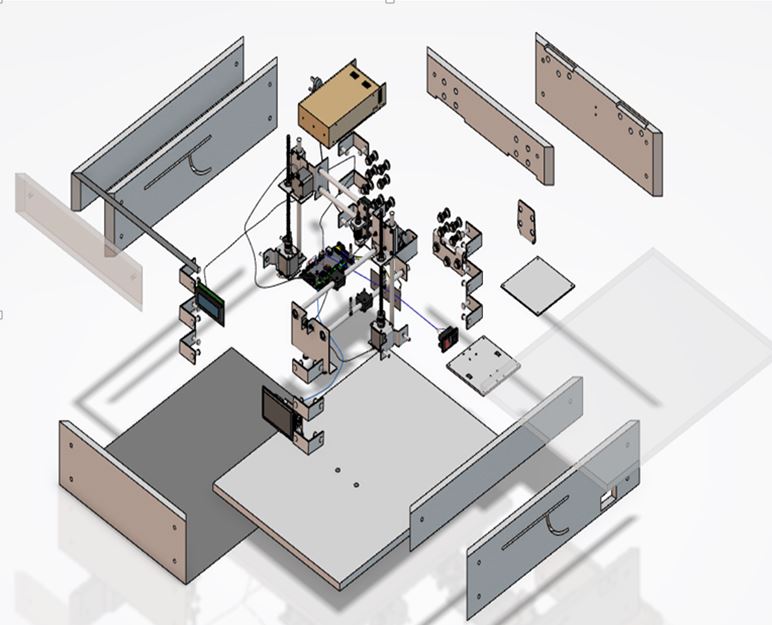 Design and development of Portable 3D Printer
Design and development of Portable 3D Printer using end to end solution of CATIA Dassault Systems
Created on 2020.06.18
237 views
Project Description
The 3D printer is quickly beginning to revolutionise the way people can become their own engineer. 3D printing is a quick and convenient way to create prototypes and models. The fact is that 3D printers are heavyweight and not easily portable. So in this model have focussed on design of portable 3D printer in a wooden briefcase without taking the printer out and it doesn't need any external support for mounting. Also the choosing of wooden material as briefcase makes it eco-friendly and construct it economically. The bed area of our 3D printer is (120*120*3) mm3. We are using 4 axis mechanism where 3 axis are X-Y-Z and the 4th axis is an extruder. The process adopted by us is FDM technology.  
Steps – Methodology
Market Value And Benchmarking
Technical Specification Finalise
3d Printer Product Design
System Engineering (Multi Diciplinary) Like ME,EEE,ECE Electrical Wire Hardness
Product Validation
Design improvement
Final design
Quality control & Inspection
Manufacturing Bill of Material
Product Delivered for manufacturing.
Design Process
Design of various parts of 3D printer
Assembly of the whole 3D printer.
Analysis and Simulation of the printer with material addition.
Wire harnessing and System Engineering
Live Rendering.
Product Functionality
Foldable-  This makes the 3D printer easy to use and portable.
Portable-  Transportable quality makes it work anywhere as per users need.
Eco-friendly- The wooden briefcase makes it environment friendly as it is  disposable.
Lightweight- The materials used in the printer makes it easy to lift and carry.
Cost-effective- It is inexpensive and can easily be bought by average income users.
Low Maintenance-  This product doesn't require much repair cost if any of its part gets damaged.
Technical Specifications
Printing specification:- Printing Technology- FDM Build Volume- L=120mm, B=120mm, H=120mm Print Precision- 0.1mm Position precision- 0.05mm Print speed- 80-100mm/sec Filament Diameter- 1.75mm Nozzle Diameter- 0.45mm Nozzle type- steel Bed dimension- 140*140*3mm Machine weight-20kg Briefcase dimension- 671*478*152mm Briefcase weight- 2kg
Market Value & Consumer Need
3D printing is the rising technology.
The demand has grown especially in the field of agriculture, biomedical, architecture, defence etc.
If given opportunity portable printers can create wonders which can save both time and money.
People with average income are opting for 3D printing both for self-use and business.
Conclusion
From a sense to print is a system that can automatically generate ready -to -print 3D CAD models.
It uses low cost Kinetics sensor.
The 3D prints currently generated are full models.
They create replicas in more expensive materials such as other copper and other materials.
Discover the team
Who's behind this project
Discover the solution
Software used for this project