next
prev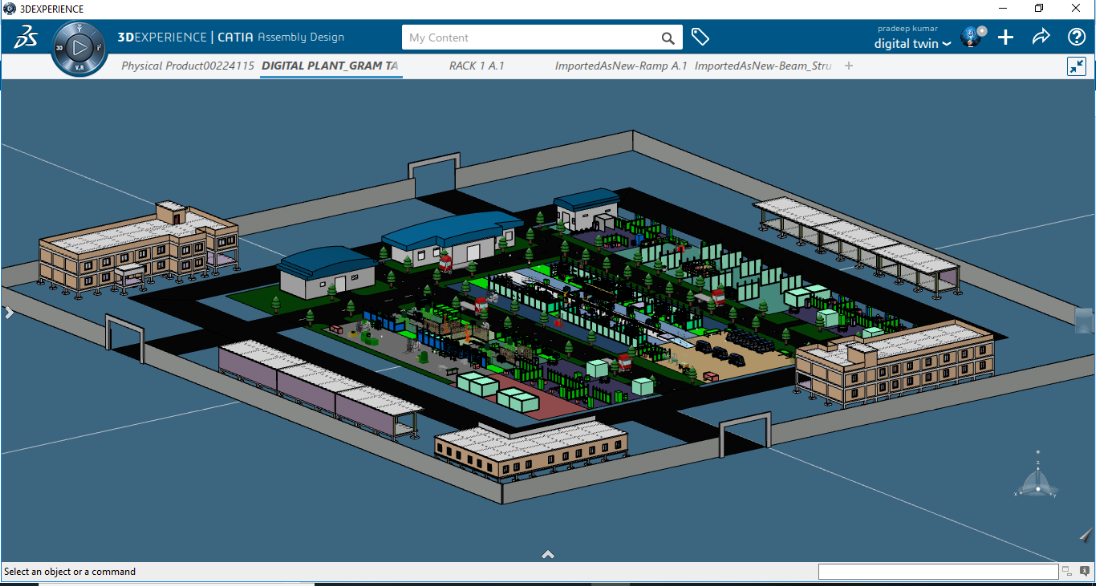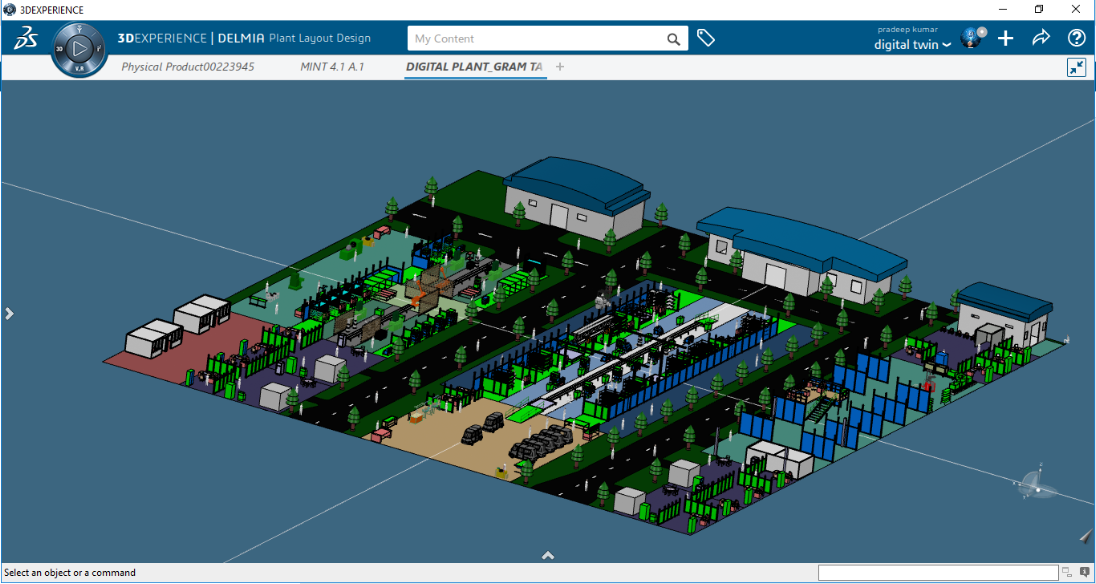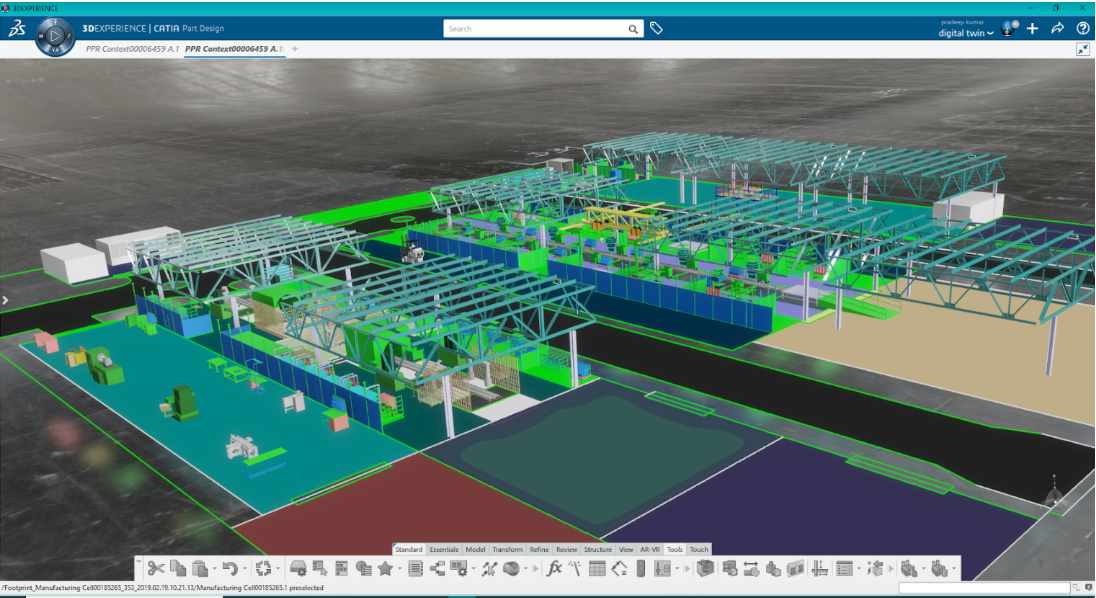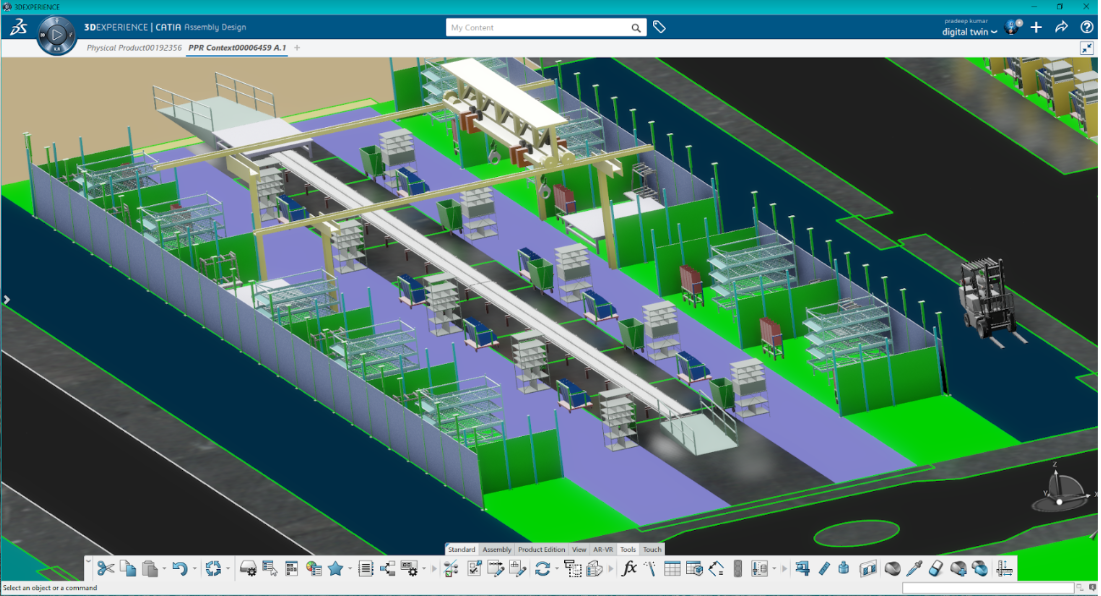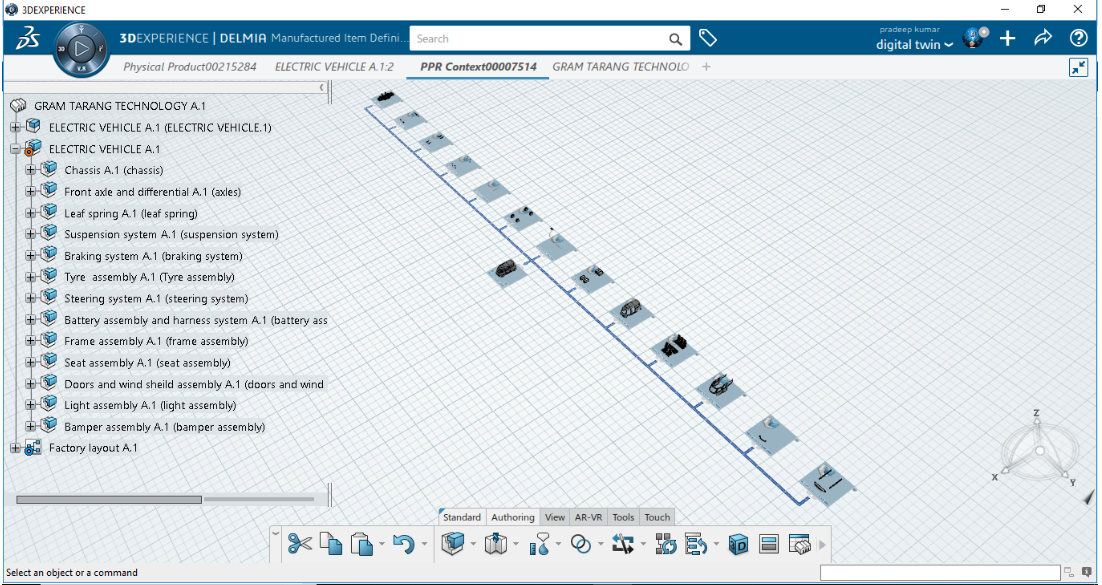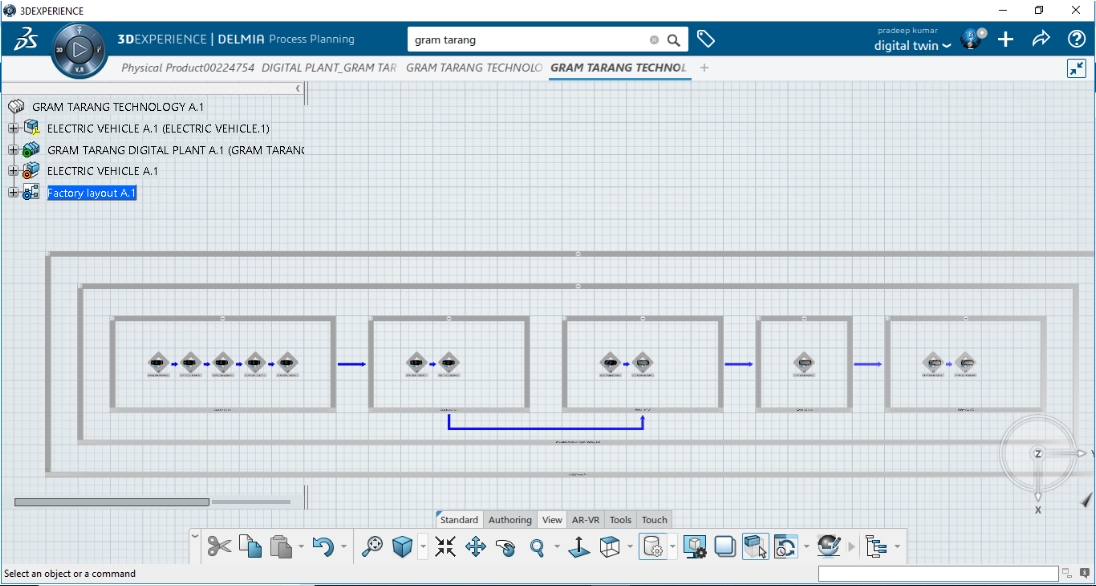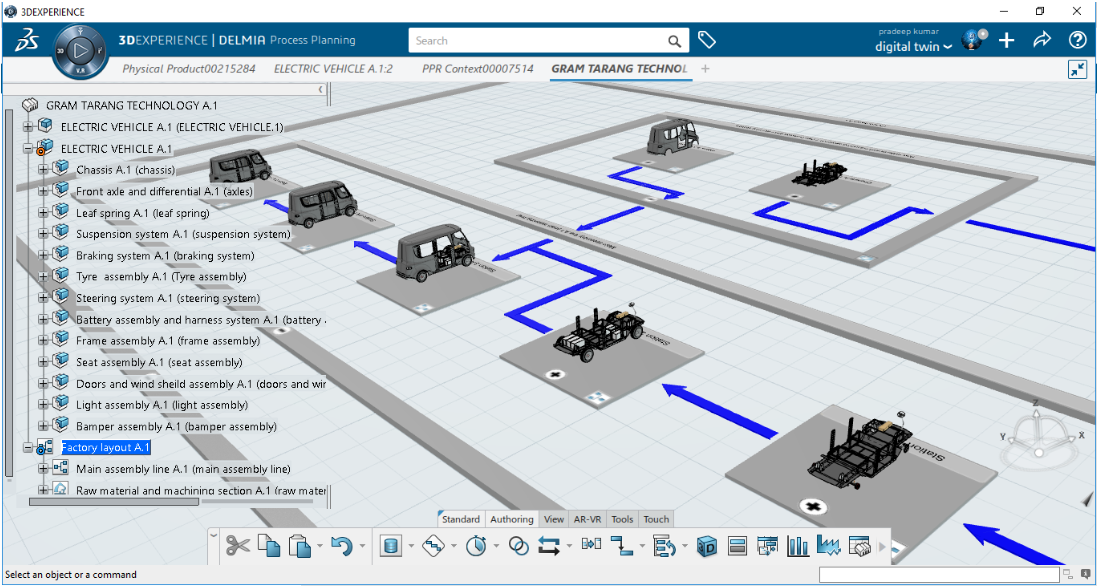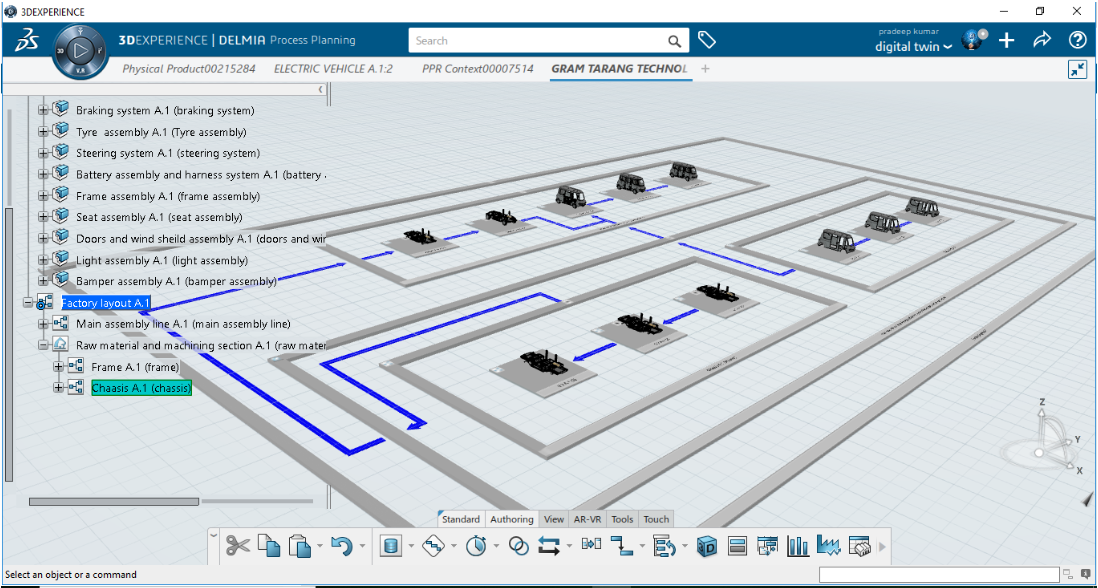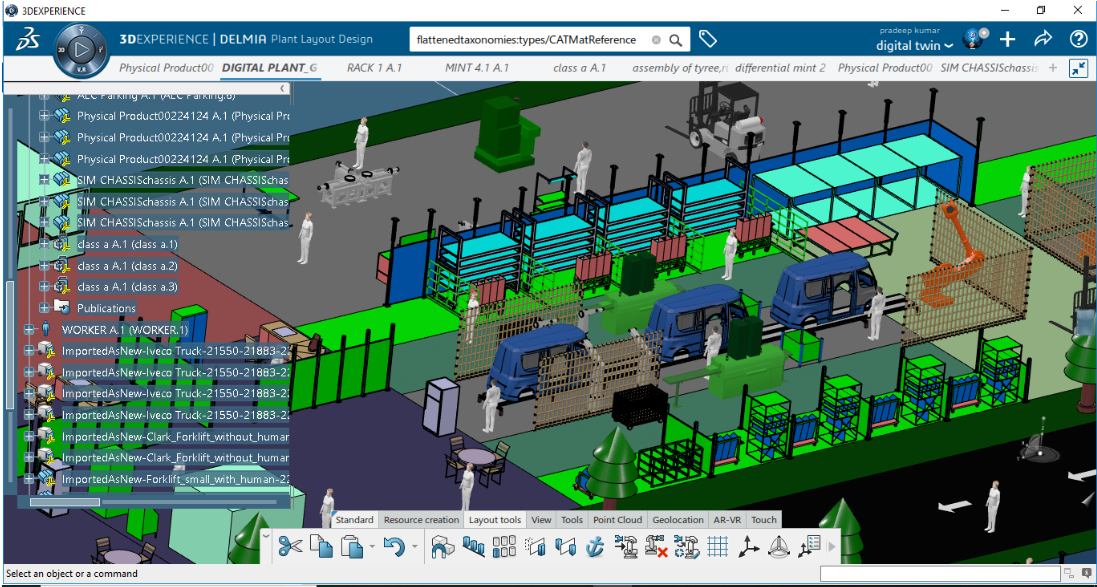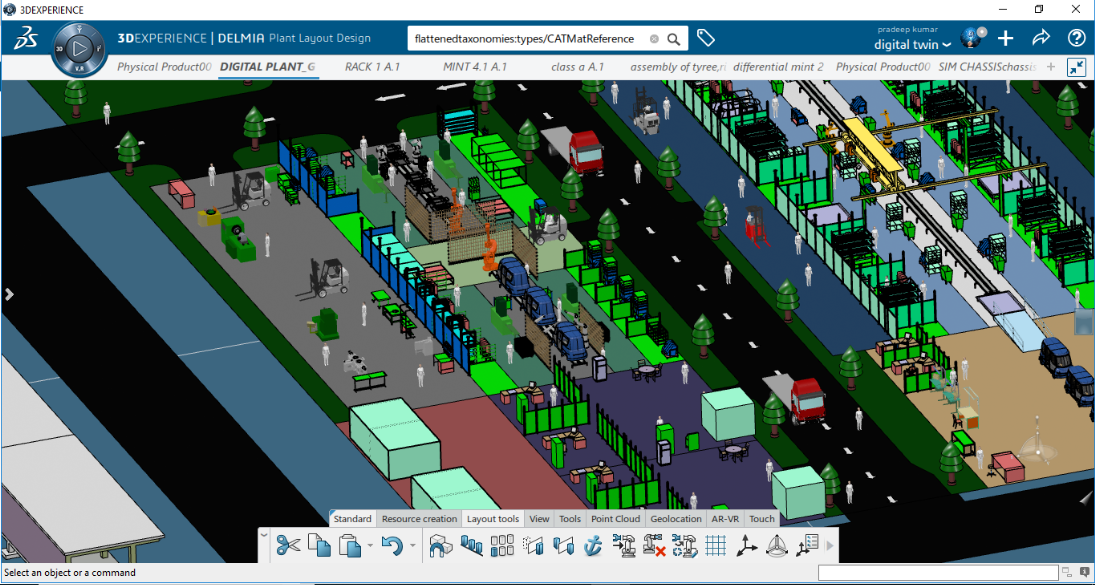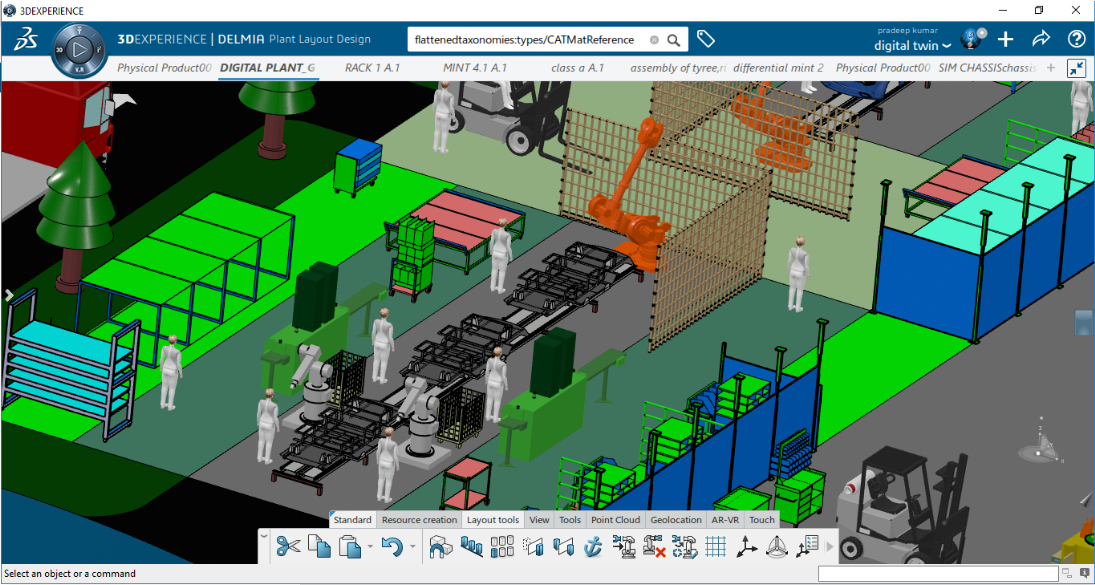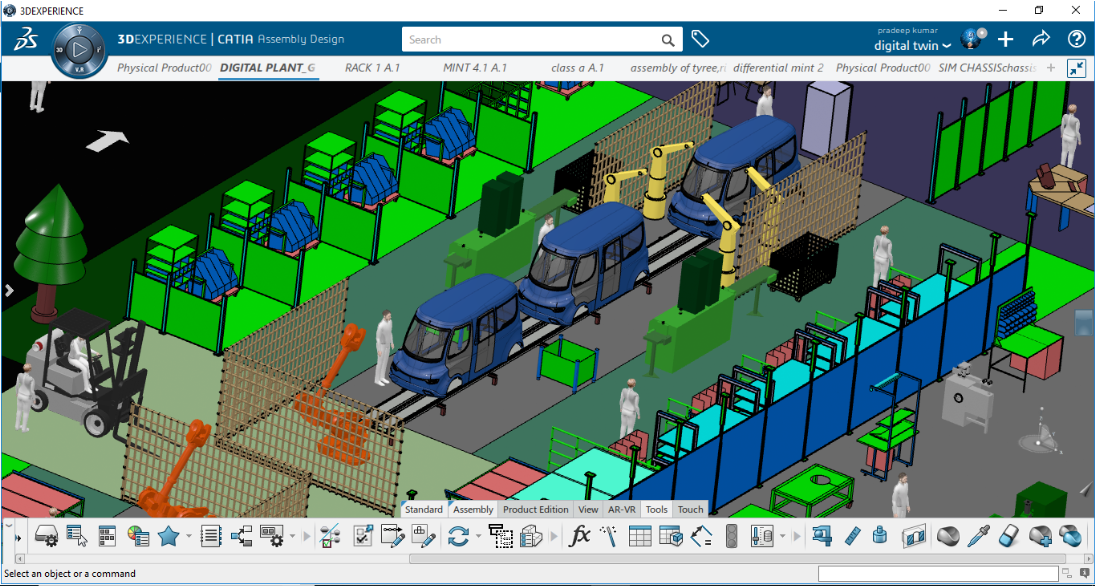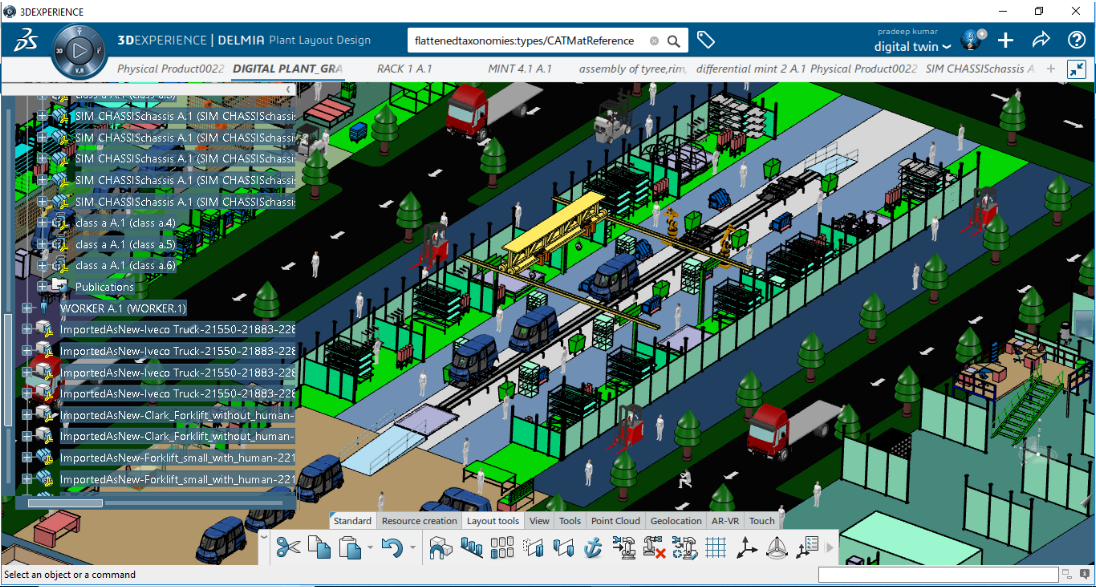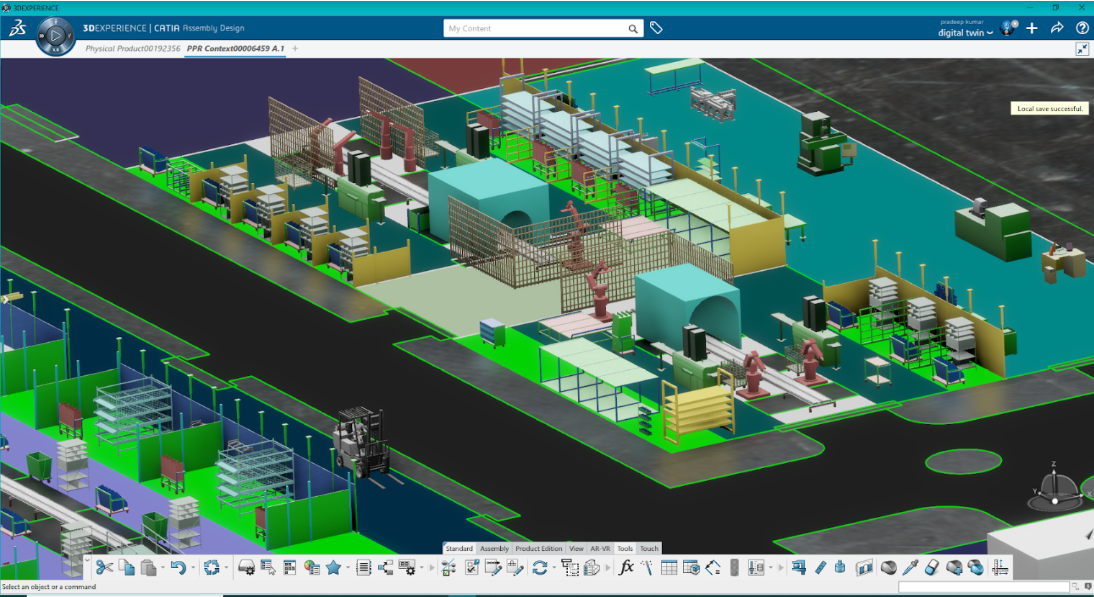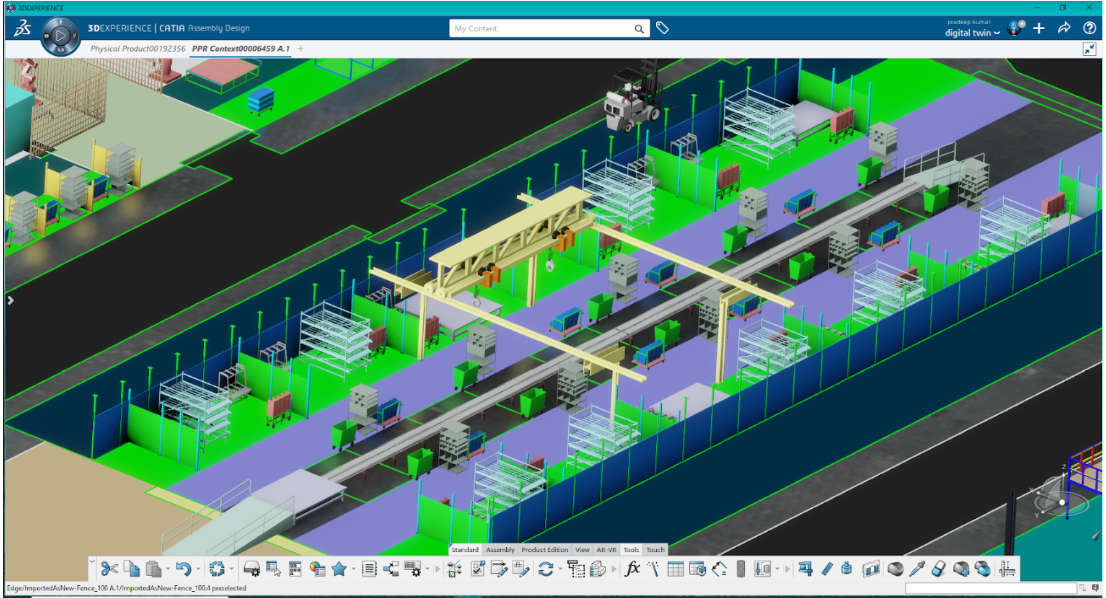 Digital Manufacturing of an Electric Vehicle for capacity of 12 vehicles per day, using DELMIA solutions on 3D Experience Platform of Dassault Systemes.
Make or Buy decision, Process & Facility Planning, Operation creation, Process Graph, Time Analysis, Line Balancing, Key Processes & Ergonomics Simulation on various apps of DELMIA solution using 3D Experience Platform for Small commercial EV.
Created on 2019.06.23
1374 views
Following key approach/methodology is followed using 3D Experience Platform of Dassault Systemes:-  
Business Strategy Planning for Production:

Lined designed for Annual capacity: 3600 vehicles.
Volume per day: 12 vehicles (one shift basis). 
Finalised Product Platform/Model: 2 platforms each having two variants.
Available time per shift: 408 Minutes.
Takt Time: 34 minutes.
No of station in Main assembly line: 5 stations.
Strategy finalised for sourcing of System/Sub-System level: Make or BUY.
In-house/Make Sourcing: Body shop, Frame Assembly and Final Vehicle Assembly.
Major Sub-System Buy/Sourcing from outside: All other aggregates and parts /sub-assemblies
Land: Share & size: 100m x 90m.                                                                                                                                                                                                                                                                                        

Process Planning:   Used DELMIA manufactured item definition, DELMIA process planning, DELMIA time-motion study

Created Manufacturing Bill of Material (BOM) from Design BOM (EV is design on CATIA). This is based on my Make or BUY decision outlined above.
Created stations & Sub-stations.
Created processes as Operation Unit for various fitment, elemental activities for processes, Process Graph (Precedence or successor of process or constraint of any processes).
Performed Time analysis with both methods - estimated time and MOST (Maynard Operation Sequence Technique) for cycle/Process Time.
Prepared GANT Chart and carried balancing of line.
Estimated no of operators/manpower required with full skill level (20 manpower needed).
Facility Planning:  Used DELMIA plant layout design, DELMIA equipment allocation

Created various facilities needed for carrying processes.
Assigned product and resources to each operation/processes.
Digital Factory:   Digital Factory is created by design/modelling of following resources using DELMIA plant layout design, CATIA part design, CATIA assembly design, CATIA –AEC/BIM

Layout Planning with Logistics & Super Market. 
Designed Line station equipment – Pallet, Trolley, Bins, Nut runners,
Lifting Tackles & Fixtures for Parts/sub-assembly/aggregates
Civil:  Floor, Building/shed/Plant Structure, Portals, Columns, Gangway, Display areas
Building / Office: Building is designed digitally with CATIA-AEC
Shop: Fabrication unit, Body Shop, Final Assembly line, Testing/PDI.
Others: Super Market storage areas, parking area, control unit, security offices, office section for different units.
Utilities: Pneumatic Air & Water connection – Piping, Power, Forced Draft Ventilation.
Process Simulation: Used DELMIA assembly evaluation, DELMIA Equipment Design Essentials

Process simulation is carried out for 5 process to check fitment of parts and its clashes.
Vehicle built up simulated on Final Assembly line.
Human Ergonomics Simulation: Used DELMIA ergonomics evaluation

Carried ergonomics simulation for fitment of BIW and Axle.
Carried and improved process for Posture, reachability and visibility analysis. 
Videos & Picture of work carried
Kindly view uploaded images & video of Digital Factory, Process & Facility Planning and Process Simulation.
Conclusion & Next Steps:
We experienced and learnt domain of Manufacturing plant using 3D Experience Platform of Dassault Systemes. 
We look forward for funding for setting up physical plant as start-up.
We would like to thank our Dassault Systemes India team, Centurion University management, Mentors, faculties & college class friends to make it possible.
Discover the team
Who's behind this project
Discover the solution
Software used for this project