next
prev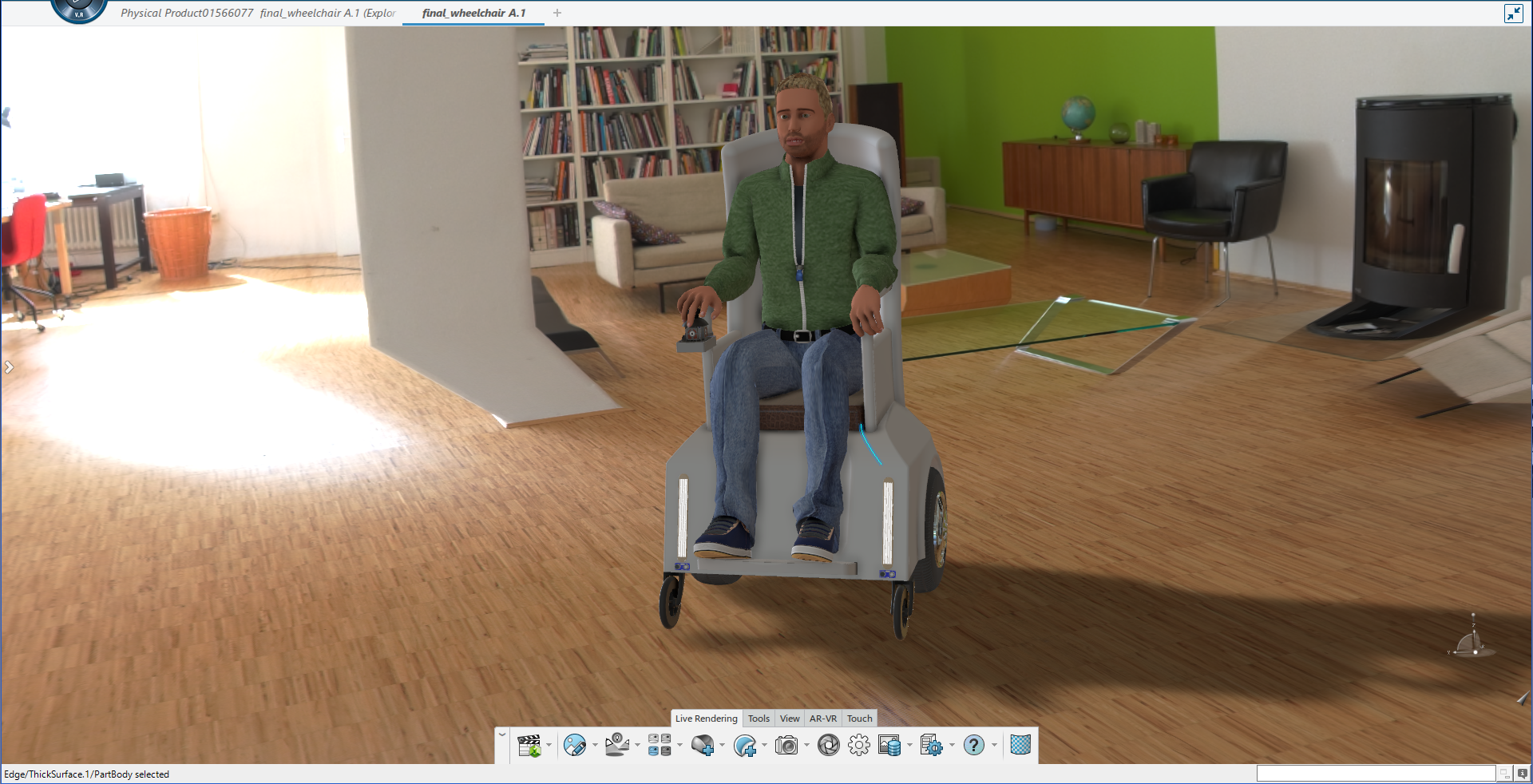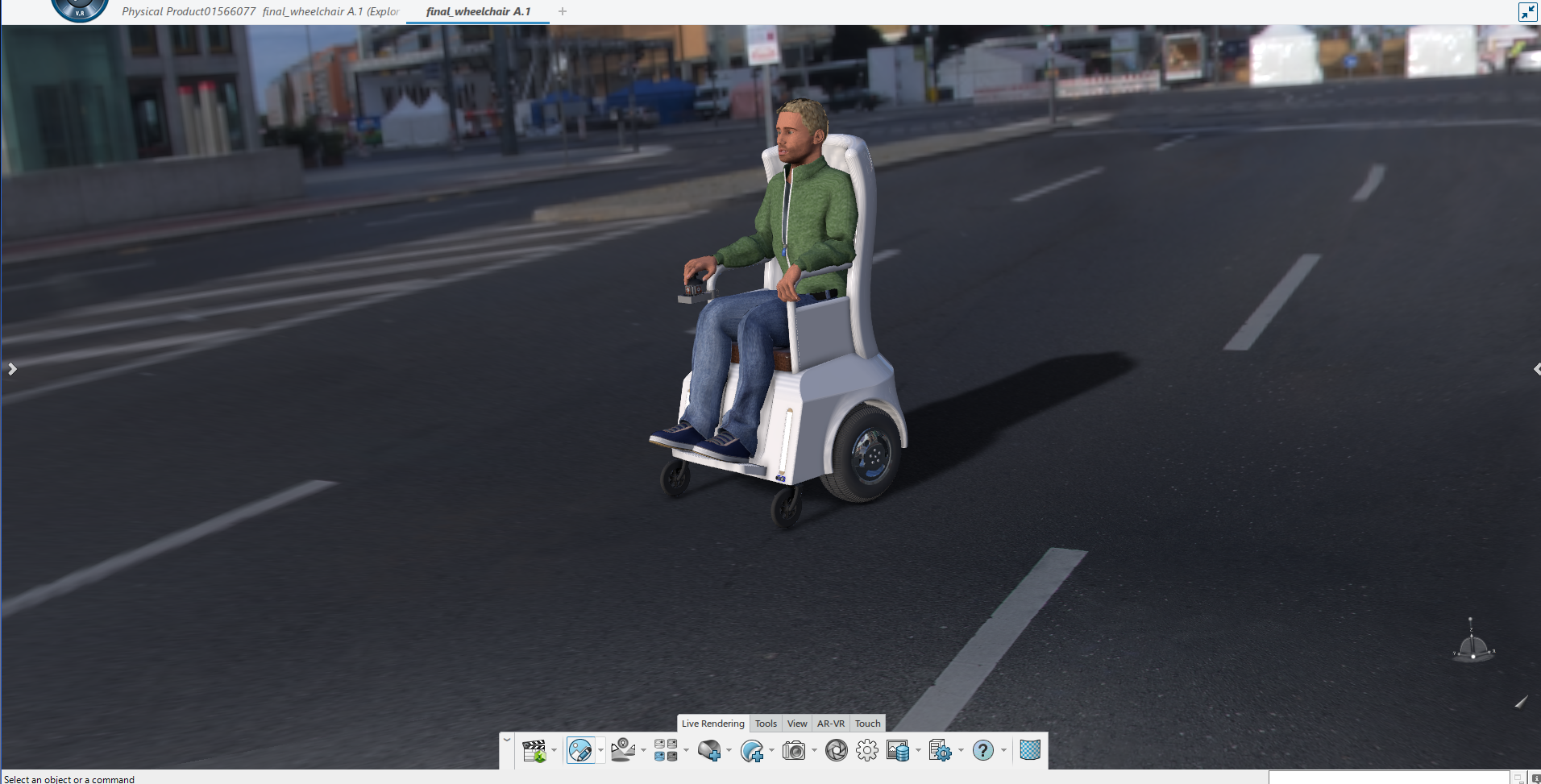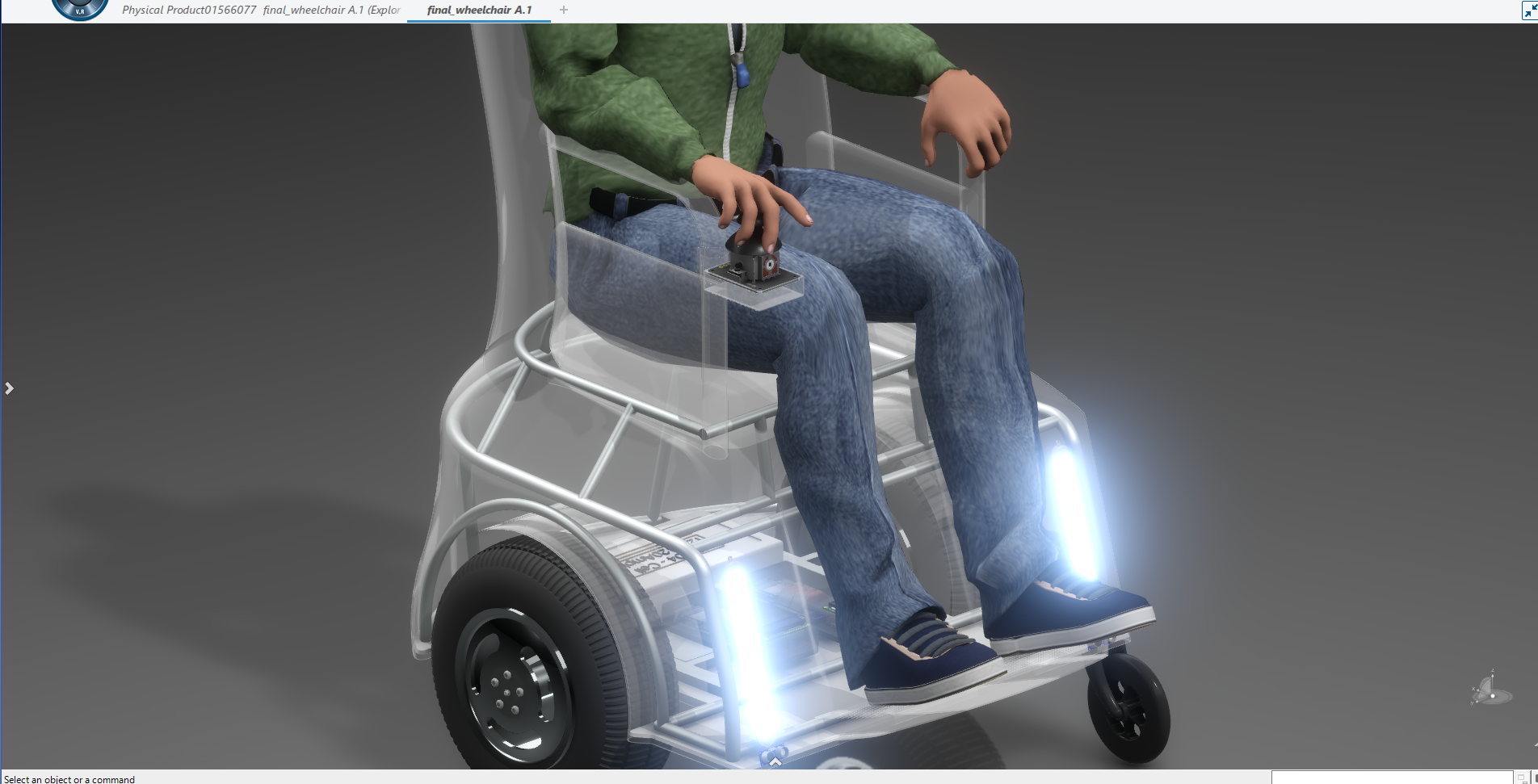 To support outbreak of COVID-19 using semi autonomous wheel chair designed using 3DEXPERIENCE
End to end wheelchair project designed digitally using 3DEXPERIENCE Platforrm.
Created on 2020.06.17
266 views
Project Title:
To support outbreak of pandemic disease caused by
COVID-19
: A Low Cost light weight modular Design of a semi-autonomous
WHEEL CHAIR
, equipped with Electric Battery Operated, Stair Climbing, IoT based alerts & Safety Systems using
3DEXPERIENCE
platform of
Dassault Systemes.
Problem Statement:
World is facing major crisis to handle COVID-19 situation, considering following key problems of our society:
Worldwide Universe Worst pandemic of COVID-19
Exponential spread & growth of COVID-19 positive cases, death cases and its fear & absolute halt of economic growth
Maintain Social Distancing
High demand of Medical equipment in bulk quantity & Crisis of its availability to handle the situation.
Additionally need of wheel chair for every patient visiting hospital with or without COVID-19 – old aged people, handicapped, people needed assistance
  India and world need of equipment which will be aid to medical systems to make it efficient, low cost solution faster & automated equipment with safety and importantly to maintain social distancing, we four
multi-disciplinary students of BIT-Sindri, Jharkhand- India
,
collaborated
and
innovated
to design and manufacture Wheel Chair.  
Innovative Solution of Wheel Chair:
Key Features

Wheel chair designed for usage at hospital/dispensary/COVID centres
Semi-automated wheel chair driven with Joystick
Embedded mechanism to climb Wheel-chairs automated on stairs
Automated detect obstacles
Portable Wheel chair
Light weight design with No-welding. Standard tubes are used to bolt and assemble
IOT based alert system for location
Ultrasonic sensor based braking system with Arduino 
IOT based alert for safety Alert to family/medical staff when collision
Electric Battery operated wheel chair
Option to charge battery with SOLAR
20 hours' endurance per battery charge with minimum 10 KMPH

Technology Used:
Used various roles of 3DEXPERIENCE platform of Dassault Systemes
Use of digital multi-disciplinary technology using 3D Experience Platform of Dassault Systemes.
Model Bases System Engineering (MBSE) approach adopted
Team & Collaboration
Number of students: Four (3 mechanical & one Electrical Engineering) – A multi-disciplinary team
Guide: Professor of BIT Sindri
Time spent: Team spent 3 months
Collaboration: Due to lockdown of institute, each member worked from home and collaborated on cloud using 3DEXPERIENCE platform of Dassault Systemes for wheel chair and its part design, assembly, review, design calculations & validation, study, sharing and others.
Stages/Methodology adopted in design & life cycle of wheel Chair:
Stage-I: Concept of Model Based System Engineering (MBSE) followed:
We carried system approach Requirement Management, Functional Analysis Logical Analysis and then Physical Design
Innovative features are included in design as listed above in key features.
We studied requirement of hospital for wheel chair, their challenges of hospital staff, outdoor and indoor patients
Carried benchmarking of similar products
Developed 'Make or Buy' strategy on sub-systems, components & supply chain
And then finalised features and function iteratively
Stage-II: Product Technical Specification at glimpse finalised:

Weight of Wheel Chair: 25 Kg
Weight Wheel Chair can hold: 90 Kg
DC Motor: 400 W, 3000 RPM
Battery: 12V, 600Ah
Discharging Time: 20 Hour after full charge
Maximum Speed: 35 Km/h
Minimum Speed: 10 Km/h
Charging time: 5 Hour from 0% to 100%
Others: IOT, Joystick, Mechanism for climbing, Braking system, safety

Stage-III:  Product Design – Using various apps of CATIA

Designed various mechanical components of wheel chairs – Tire, Hand rest, Frame, Wheels, seat, Joystick, braking systems, Rim, Back rest, stair climbing mechanism, fasteners etc. and developed 3D CAD model
Also designed electrical sub-systems – LED light, Battery, Motors, charging point, controller, sensors
Parametric & Features based design is carried using sketcher, part modelling & assembly etc
Then assembly with Integration Verification & design calculation validation
Bill of materials preparation & drawing for manufacturing
Rendering of product and its parts/subsystems along with material assignment
It was very complex to design product with intended objectives.

Stage-IV: Integration, Verification & Validation
Then assembly of sub-systems and parts with Integration Verification & design calculation validation
Checked for manufacturability verification
Stage-V: Prototype Development:

Next step is to develop to work with supply and manufacturer of wheel chair
Two nos of prototype shall be developed
Based on feedback, design changes if any to be implemented.
Fund to be arranged for prototype development

Stage-VI: Product Launch

With investor support, we shall work to manufacture and commercialise the product with our own start-up
Impact & Sustainability:
This product will impact highly our society to make use of wheel chair and its features at low cost solution on validating prototype and manufacturing.
It is driven by electric vehicle/battery which support our NO pollution and Go-GREEN mission of Sustainability and save/protect energy
Conclusion & Next Steps:
We learnt integrated solution of 3DEXPERIENCE Platform of Dassault Systemes at each stage of product design and development of Wheel Chair which provided to innovation more in digital space. We learnt domain and technology of Dassault Systemes
We look forward for funding for development of physical prototype and commercialisation of product with our own as start-up as next.
We shall go for certification of 3DEXPERIENCE platform and CATIA, DELMIA, SIMULIA and ENOVIA as next
It was truly wonderful "hands-on learning experience' and competency development experience using 3DEXPERIENCE Platform of Dassault Systemes and thanks for providing software license.
We thank Dassault Systemes India, BIT Sindri management, faculties & college class friends for wonderful learning opportunity and developing product in making it possible.
Discover the team
Who's behind this project
Discover the solution
Software used for this project