next
prev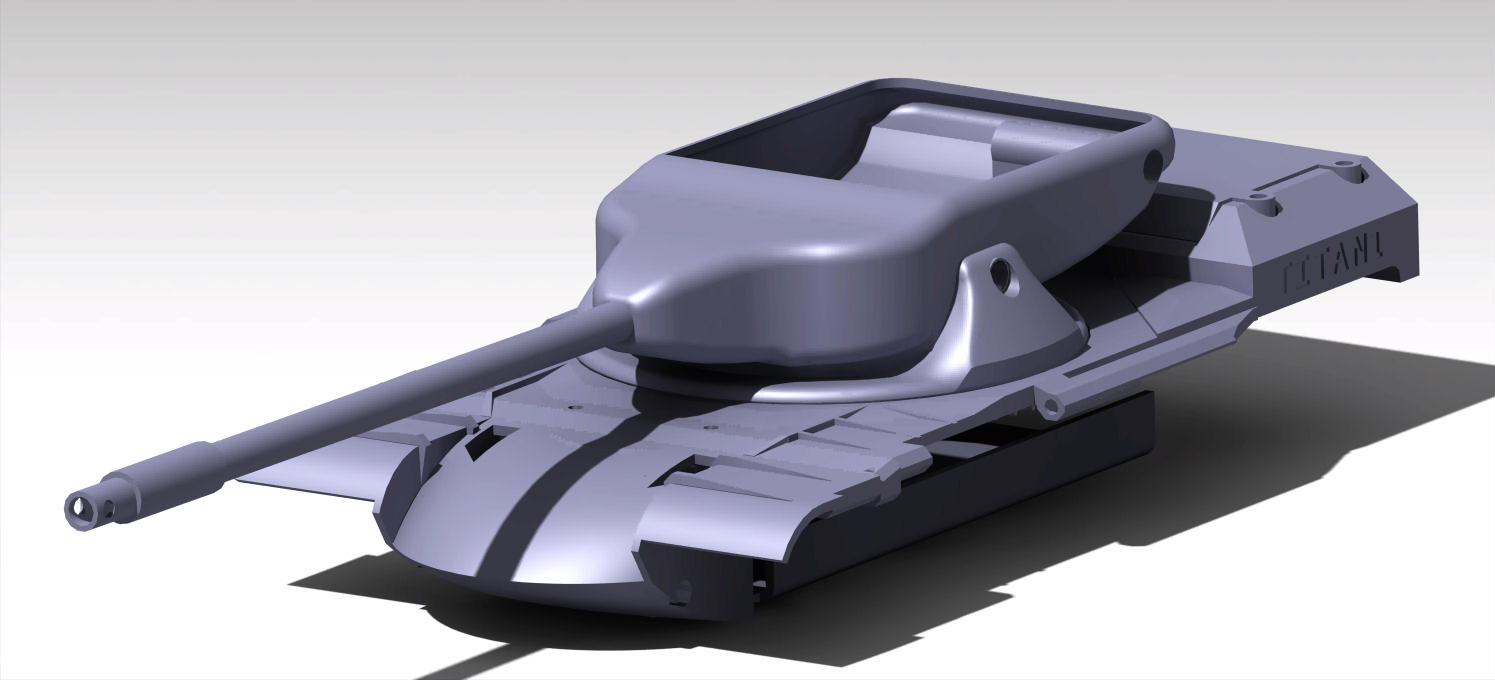 T57E20
Titan 1
Created on 2020.07.31
51 views
The T57E1 is designed to be a 3D printed Tank chassis to be integrated with a tank track suspension system and drive train made of Lego Parts, effectively making this an integration kit. A functioning fire control system utilizing the gearbox internals of an electric airsoft gun will be housed inside the turret to fire airsoft BB's and a twin 30,000 rpm electric DC motor power plant will power the drive train. A DC stepper motor will control turret rotation and all other auxillary systems will be operated by small AC motors and remote controlled through a Raspberry Pi 4B. Cooling fans will be strategically placed throughout the chassis to ensure adequate cooling through dust filtered vents.  Specs: The electric fire control system has an alleged fps of 350fps (assuming an ammunition weight of .2g) and an as of yet unknown rate of fire likely in the range of 1-.5 shots per second.  The gun will have a maximum gun elevation angle (upwards) of 13 degrees and a maximum gun depression angle (downwards) of -3 degrees with the turret pointing to the front. However, when the turret is rotated 65 degrees in either direction, the gun elevation angle increases slightly to 14 degrees due to the design of the raspberry pi housing and the geometry of the back of the turret.  The drive train has a theoretical top speed of roughly 75.4 meters per second. However, given insufficient down-force on the tracks, multiple points of friction given the predominantly Lego drive train and Christy inspired suspension system, a shared power supply, and the unknown variable of ground resistance, a more realistic top speed is theorized to be roughly 15-20 meters per second.  The primary power supply will be a 5V 4000mAh power pack for the Raspberry pi. At least one auxillary power supply will be used, one of which being a 9.6V 1600mAh battery pack for the fire control module, and another identical battery pack for the drive train
Discover the team
Who's behind this project
Discover the solution
Software used for this project
Due to US Tank naming conventions at the time of the T57 Heavy tanks conception, the number in the name was given based off the year in which the tank was conceived. Therefore, I kept the "T57" in the name because at its heart, this tank was still based aesthetically off the T57 Heavy. However, following in the spirit of US naming conventions, I added in the "E20" to the end of the name because the "E" stood for "Electric" and the "20" was the year of this variant's conception. This, however, is different from the christened name "Titan 1" for the same reason the M4 Sherman tank could be called either an "M4" or a "Sherman.
after the arrival of the the airsoft barrel, it was found that the inner diameter of the outer gun barrel was too small for installation. So, a redesign of the outer barrel and a slight alteration to the turret nose occurred. Unfortunately, this led to the existing nose print becoming useless and in need of replacement. The barrel was printed shortly thereafter.
After rigorous measurements and 6 iterations, the middle, forward and rear deck mounts were finalized and installed, attaching the deck, hull and engine bay to the Lego Drive train, thus solidifying the design. These mounts and corresponding brackets were 3D printed and installed.