Are you a master teaching in CAD?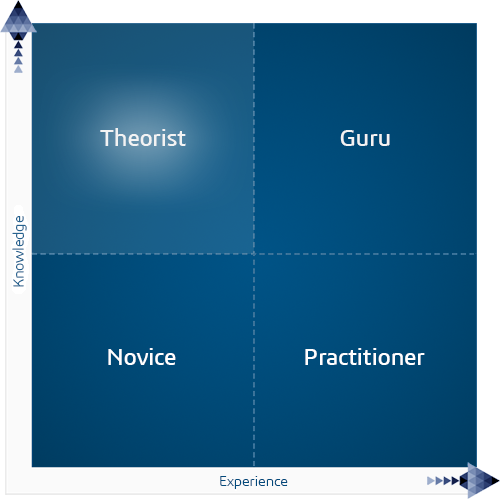 Thank you for taking the quiz!
Your score is positioned in the "Theorist" quadrant of our matrix.
This reflects your high score in questions about your knowledge as an educator. Congratulations!
On questions about the practice of CAD teaching, you scored below the median level. This means you have the opportunity to cultivate your theoretical expertise, and/or improve your level of practice. Check out what cool content we've selected to help you pursue those opportunities
Materials for you
Enter SOLIDWORKS Apps for Kids where you can create, revise and express your ideas. You can 3D-print or share your creations with other dreamers to make them come alive.

How do you combine Math, Science, Technology, Engineering, History and Art and meet educational standards in your classroom? The Great Pyramid program"allow your student to learn about the engineering design process and practice by building pyramids in teams, using everyday household items.

Find on Companion Learning Space online courses dedicated to beginner and advanced users to start teaching or transform engineering practices.
Connect To Companion Learning Space

DraftSight is a professional-grade 2D design and drafting solution that lets you create, edit, view and markup any kind of 2D drawing. A familiar user interface and a minimal learning curve facilitates an easy transition from your current CAD application.  

The education program brochure will give you a glimpse on what we propose to start working with 3D solutions.  
Quiz answers 

a. Computer Aided Dispatch
b. Aided Design
c. Computerized Assisted Drawing
d. Coronary Artery Disease
2/ If you use any CAD software, what do you use it for? (you may give more than one answer)

a. Conceptual design and layout of products
b. Strength and dynamic analysis of parts, assemblies or buildings
c. Definition of manufacturing methods of components or toolings
d. All of the above
e. Part Design
3/ As a CAD educator, do you ask your students to design things (you may give more than one answer

a. In 2D only
b. In 3D only
c. In 2D and 3D but not related 
d. In associative 2D and 3D
e. Using a generative or a spec-driven methodology
4/ CAD goes back to the...?

a. 60's
b. 70's
c. 80's
d. 90's
5/ If you teach mechanical CAD (or would like to), how do you approach design for manufacturing? (you may give more than one answer)

a. I do not
b. By explaining how parts will be produced
c. By having students actually manufacture the part/s they designed
d. By having the CAD tool assisting in designing manufacturable parts
6/ Recently CAD evolved to produce natural organic shapes thanks to a technique called:

a. Biological optimization
b. Tangency optimization
c. Topological optimization
d. Subdivision
7/ Do you require your students (multiple choice possible from a to e)

a. To 3D print a part that they designed
b. To Machine a part that they designed
c. To produce such part by other computer controlled machines
d. To produce such part manually 
e. To have such part produced by a third party
f. None of the above
8/ What would be totally impossible to do without a CAD software?
a. Airplane manufacturing
b. Lathing
c. Machining
d. Additive manufacturing
9/ How do you encourage collaborative design in your CAD course? (you may give more than one answer)

a. I don't
b. By having several students working together on the same part design
c. By having parts in an assembly designed by different students 
d. By having students design in context of a pre-existing assembly
e. In other ways
10/ Historically, CAD was used to model mechanical parts. Which of the following is one of its more recent application domains?
a. Software Activity Balancing (SAB)
b. Product Lifecycle Management (PLM)
c. Enterprise Resource Management (ERM)
d. Integrated Manual Manufacturing (IMM)
11/ Which of these practices is not enabled by CAD?
a. Design for manufacturing
b. Design to cost
c. Inventory based manufacturing
d. Tolerancing
12/ How long have you been using CAD ?
a. 0-5 years
b. 6-10 years
c. 11-15 years
d. More than 15 years
13/ Which tool is not part of Product Lifecycle Management (PLM)?

a. Computer-aided design (CAD) 
b. Computer-aided manufacturing (CAM) 
c. Customer Relationship Management (CRM)
d. Product Data Management (PDM)
14/ Which was the first commercial airplane to be completely modeled in 3D?

a. Boeing 777 
b. Airbus A380
c. Boeing 757
d. Concorde
15/ Which industry doesn't use CAD to improve their solutions?
a. Finance
b. High-Tech
c. Construction
d. Consumer Goods & Retail
16/ For which of these tasks is CAD meaningless?
a. Set the initial selling price
b. Share designs with peers
c. Specify the geometric precision of parts
d. Visualize the design before submitting it to production
17/ From the options below, which one is not a benefit of using a CAD software
a. Gain insight into key factors of quality and performance
b. Ensure compliance with market requirements and regulations
c. Guarantee a better design than competitors
d. Optimize the effectiveness of every user