Are you a master teaching in CAD?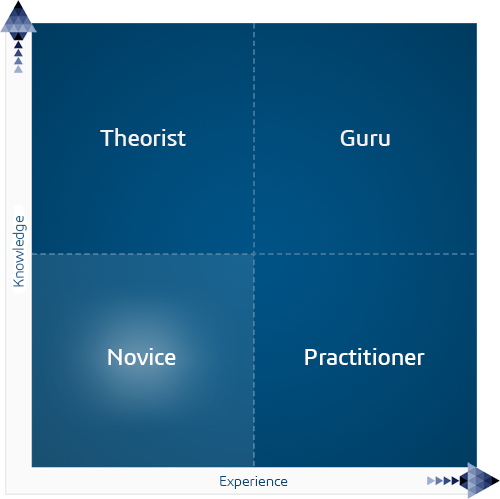 Thank you for taking the quiz!
Your score puts you in the "Novice" quadrant of our matrix.
This is because you scored below the median level in both categories of questions about your practice as an educator and in questions about the theoretical aspects of PBL teaching.
This means you have some room to cultivate your practical expertise and/or improve your theoretical knowledge. Check out below what cool content we've selected to help you pursue those opportunities and become a champion.
Materials for you

Discover on this page PBL definition.
Project Based Learning Definition

The education program brochure will give you a glimpse on what we propose to start working with 3D solutions.  

Here is a video showing how a German university teach Project Based Learning.

Read examples of institutions teaching Project Based Learning in "A New Art" section: 
Quiz answers 
1/ What is PBL's best definition?

a. An approach to personal development and psychotherapy 
b. A method in which students divide their problem solving activity according to their personal interests
c. A student-centered approach in which students learn by solving an open-ended problem
d. A problem solving method that establishes a series of predefined preventive measures
2/ How do you foster a classroom atmosphere that encourages PBL? (you may give more than one answer)

a. By encouraging inquisitive, out-of-the-box thinking
b. By submitting real life problems 
c. By challenging their preconceived ideas or previously acquired knowledge
d. By presenting their findings in front of an audience
e. By working in teams and encouraging everyone to help solve the issue 
3/ How do you encourage your students to practice project management? (you may give more than one answer)
a. I do not
b. With a computer-based tool
c. With a formal lecture on project management
d. By requiring students to apply a formal method
4/ A key characteristic of PBL is:
a. To provide complex challenges to students
b. To apply all the knwoledge students acquired so far  
c. To have students independently search for the knowledge needed
d. To always include a business dimension in the project 
5/ Do you allow students to evaluate each other?
a. Never
b. Sometimes
c. Occasionally 
d. Always
6/ In problem-based learning, the teacher's role is mainly

a. Examiner
b. Lecturer
c. Peer
d. Facilitator
7/ How do you promote teamwork among your students? (MC from b to e)

a. I do not
b. I form the teams beforehand
c. I let them form the teams freely
d. I form teams randomly
e. I organize a guided activity with the students to form the groups
8/ During problem solving exercises, do you: (you may give more than one answer)
a. Provide students all the knowledge they need upfront
b. Consider they have enough previous knowledge
c. Assist them in finding the knowledge they need  
d. Always let them find what they need on their own
e. Provide them with tools and methods to find and share such knowledge
9/ From the options below, which one is not a standard part of PBL?
a. Asking students to present their result and their process to achieve it
b. Waiting for the teacher's instructions before taking a major decision
c. Challenging the problem to encourage students to consider it from different angles
d. Giving and applying feedback on their projects as it progresses
10/ How do you require your students to deliver their solutions? (you may give more than one answer)
a. As a concept description
b. As a technical blueprint
c. As a non-functionnal prototype
d. As a functionning prototype
11/ Which of the following practices do you currently apply or encourage to foster students' interpersonal skills? (you may give more than one answer)

a. Peer evaluations
b. Collaborative learning
c. Group brainstorming
d. Enroll in public service activities
12/ Which of these sets of student/supervisor project activities best characterize PBL (1 choice only)

a. Look for inspiration / Get the knowledge to solve the problem / Produce solution concept / Create detailed technical solution / Evaluate students work 
b. Conceive the solution / Design the required path to follow / Implement the solution according to their plan 
c. Understand technical specifications / Design corresponding solution / Compare with best solution 
d. Go through prescribed courses / Analyze problem statement / Write solution based on course / Assess students 
13/ Do you use any online solutions to follow your students' project-based work?
a. Not at all
b. Rarely
c. Frequently
d. Always
14/ Would the use of industry grade digital project tools motivate your students?

a. This would not alter their motivation level
b. They would be slightly more motivated
c. They would be more motivated
d. Their motivation level would significantly improve
15/ When evaluating project-based activities, which method do you prefer? (you may give more than one answer)
a. Continuous supervision
b. Peer evaluation
c. Review of deliverables
d. Student project presentations
e. Review by industry partner
f. Review by another educator
16/ When you supervise student projects, how do you make yourself available to students (you may give more than one answer)
a. Project activities occur only when I am physically present 
b. Online, by appointment
c. Physically, by appointment
d. Freely, during my consultation hours (online or physically)
17/ In which disciplines can PBL be used?

a. Biology and chemistry
b. In any discipline
c. Mathematics and economics
d. History and literature