BASED ON SOLIDWORKS, FULL BROWSER-BASED 3D MODELING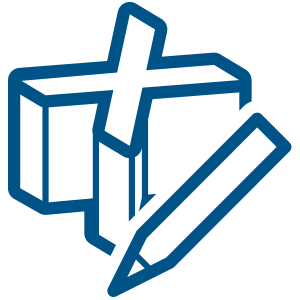 Based on SOLIDWORKS and powered by the 3DEXPERIENCE platform on the cloud, 3D DESIGNER is the right full-cloud solution available for student challenges & learning purpose, ready to use from any browser and device! No installation or powerful machine required!
HIGHLIGHTS
● Unite schools, educators, and students into a single framework for sustainable innovation
● Provides apps to design, refine, organize, manage, and collaborate on content in real-time
● Innovate, collaborate and create great designs anytime, anywhere, from any device—including Macs and mobile devices
● Utilize advanced time-saving features and technology like Artificial Intelligence and Machine Learning
●  All in-the-cloud with zero installation and no extra IT efforts
Discover what is included
3D Creator

Innovate, collaborate, and create great designs anywhere and anytime. 3D Creator combines ease of use with innovative AI-powered Design Guidance and cloud collaboration from inside a web browser

3D Sculptor

Create highly stylized and organic shapes with far less effort than traditional parametric surfacing tools, using cloud-based subdivision (Sub-D) modelling solution on the 3DEXPERIENCE platform and work seamlessly with SOLIDWORKS CAD

 

3D SheetMetal Creator

3D SheetMetal Creator is an intuitive, browser-based solution that provides a focused user experience tailored to the needs of sheet metal designers and engineers who need to design sheet metal components and enclosures.

 

Project Planner

Organize your design work with team-based planning, monitoring and collaborative tasks with the Project Planner App
SOLIDWORKS Desktop Connector

Bring your work done with SOLIDWORKS Desktop on the 3DEXPERIENCE Platform and enjoy the collaborative and cloud possibilities!
COLLABORATE AND MANAGE PROJECTS ON THE SAME ENVIRONMENT
In addition to the roles available, 3D DESIGNER takes advantage of the platform capabilities, you will find the following common roles:
Collaborative Business Innovator – the building blocks of our easy-to-use Platform
Collaborative Industry Innovator –  organize, collaborate and manage in real-time
Through these roles, you will be able to fully manage your projects directly from the web. Here is a preview of the available Apps inside:
| | | | |
| --- | --- | --- | --- |
| | 3D Dashboard: create, personalize and share multiple dashboards with extensible widgets/apps catalog | | 3D Compass: an intuitive, compass-like interface providing easy-to-use navigation to all apps (based on your available roles) |
| | 3D Drive: store, sync, share and preview any file on the cloud. It also allows light design review | | 3D Play: visualize your designs and review them in real-time |
| | 3D Swym: connect instantly in context, share designs and collaborate via Communities | | 3D Space: manage and share data, documents, related information |
COMMUNITIES & ONBOARDING
Our goal is to bring educators & students from around the world together so they can share ideas and best practices, find solutions to complex problems and learn from each other! Collaboration is at the heart of our solutions! Whether it's on social media, our dedicated online communities or e-learning tools, you'll never be alone!
More details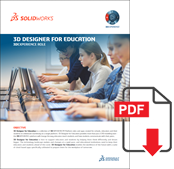 If you want a more detailed view about 3D DESIGNER and each role available, please read the following brochure.
You can also check all the apps available using the dedicated website below:
System requirements

3D DESIGNER is full browser-based solution, you can use it from any device, any time, anywhere!
Even Macs, tablets and smartphones! All you need is an internet connection.