In today's competitive job market, students need every advantage they can get. Dassault Systèmes cloud based 3DEXPERIENCE platform brings new capabilities to students who want to experience the design and engineering practices of current industry leaders, increasing employment opportunities in the new global economy.

The 3DEXPERIENCE platform provides a suite of connected tools and apps specifically cultivated to the broader toolkit required by the designers and engineers of tomorrow.
Empower your students with essential skills & knowledge using the industry-standard 3DEXPERIENCE platform and give them an edge in their future careers.
 
Cutting-Edge Apps

Everything you need to transfer your pedagogy on a secured and cloud-based platform.

Learning content designed by teachers

Get the right teaching resources for learning by doing and share essential skills & knowledge.

Dedicated community

Accelerate collaboration for your students and receive best platform practices & 3DS coaching.
Discover the new 3DEXPERIENCE Offers
Jump into the 3DEXPERIENCE with our brand new offers for Academics, starting at less than 30€ per student for your classroom
Whether you're studying general industry practices or domain specific topics; whether you are coming from SOLIDWORKS, CATIA or SIMULIA worlds, we've got the right fit for your classroom.
Teaching Experiential Engineering with CATIA

Shifting toward collaborative and experiential learning.

Teaching collaborative 3D Design with SOLIDWORKS

Shifting toward collaborative and experiential learning.

Teaching simulation-driven experiences with SIMULIA

Empowering students with simulation-driven design experiences.

 
 
 

 

Teaching systems Engineering with CATIA

From mechatronics to connected products & model-enterprise.

Teaching virtual manufacturing with DELMIA

Empower your students to build the factory of the future.

 
Discover more about the academic world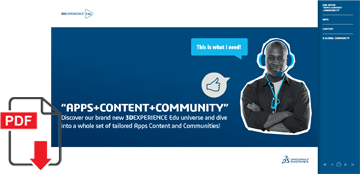 Learn more about our "App + Content + Community" approach for academics with the following ebook.
Discover next learning dedicated webinars