Virtual factories are transforming manufacturing with digital models that simulate the entire manufacturing processes, from plant design to factory operations and human ergonomics. Manufacturing companies are looking for employees with new skills required to lead this transformation. The 3DEXPERIENCE platform for Education empowers your students to master these skills with a connected, integrated view of the manufacturing process. Extend the virtual world of product design and innovation to production, and in turn teach your students to create the efficient, sustainable factory of the future.
Did you know? The Global Digital Twin Market size is expected to reach $63.5 billion by 2027, rising at a market growth rate of 41.7%
It's time to upskill your students on manufacturing processes with the power of the virtual factory!
STARTING AT LESS THAN 30€ PER STUDENT FOR YOUR CLASSROOM
A new world of Apps, Learning content and Community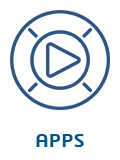 You need apps, we've got them! The 3DEXPERIENCE platform for Education helps you prepare your students for the future of industry and increase their employability. It helps educators from all over the world to connect the dots between product, process plan, resources and manufacturing by bringing the full virtual factory to the classroom while supporting real-world problems and complexity. Let's plan, simulate and operate an accurate virtual production system!
These apps provide students with an ideal environment for experiencing the methods practiced and required by various industries.
• Enable the design, simulation, automation and control of part production as well as tooling, machines.
• Program, simulate, and validate Robotic assembly systems in a 3D Virtual Factory context.
• Reduce cost and waste created through test innovation with simulated interactions and optimization.
• Rapidly evaluate workplace and product designs considering human factors and ergonomic requirements.
Included in the offer:

3DEXPERIENCE for Education

The following roles are included in the portfolio:
-Production Engineer (U2M) + Systems Engineer (U2S) + Engineering Expert (U2D) + Virtual Storyteller (U2P)
More details about each role and the apps included at this link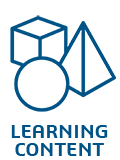 To enable you to go even further, we have developed learning experiences tailored for you. Either from our Edu-Space learning platform or from our communities, we offer learning materials and videos to support all your teaching activities on manufacturing disciplines.
Included in the offer:

Full dedicated Learning Experience

Mechanical Design and Styling based learning content using CATIA, or Manufacturing Process Planning and Simulation using DELMIA – all these learning materials are there for you!

Several Webinar Sessions:

Each month, a dedicated webinar session is available, check it out!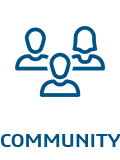 You're not alone! With the 3DEXPERIENCE platform, you enjoy access to the biggest worldwide Dassault Systèmes communities for Educators & Students to support your learning journey, and connect you and your students to peers and our technical experts.
Included in the offer:

Academics community, coaching & webinars

Use our dedicated community to find solutions to complex problems and learn from each other, peers and Dassault Systèmes experts are here to help you! Webinars & Q/A sessions are also available for your empowerment.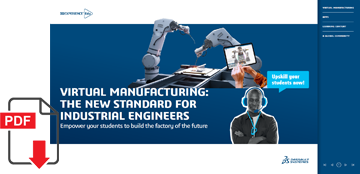 If you want a more detailed view about this offer "Teaching virtual manufacturing with DELMIA" professional transformation, please read the following ebook.