Based on CATIA, full browser-based 3D generative modeling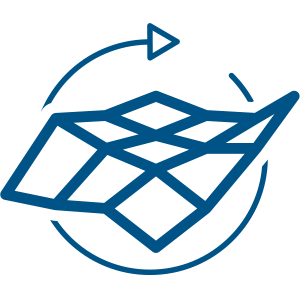 Based on CATIA and powered by the 3DEXPERIENCE platform on the cloud, 3D INNOVATOR is the right full-cloud solution available for your challenges & learning purpose, ready to use from any browser and device!

Using highly automated generative modeling, create complex organic shapes with ease in seconds. This algorithmic approach to design allows easy creation of repetitive and non-regular shapes such as organically and bio inspired forms. Unleash full creativity by combining graph-based visual scripting and interactive 3D modeling, with the ability to use one or the other interchangeably at any time.
HIGHLIGHTS
• Quickly create & explore organic shapes with digital clay modeling approach based on subdivision surface technology
• Design, explore and validate variants of complex, repetitive and non-regular shapes and patterns with an intuitive algorithmic approach
• Quickly generate 3D patterns for styling exploration
Discover the key Apps included

x3D Design

Innovate, collaborate, and create great designs anywhere, anytime, on any device!
x3D Design allows to create and share mechanical products with agility and limited infrastructure cost, running in a browser.


xGenerative Design

Browser-based, on-the-cloud, generative modeling: xGenerative combines graphical visual scripting and interactive 3D-modelling, with the ability to use one or the other interchangeably at any time. Quickly design, explore and validate variations of complex, repetitive and non-regular shapes and patterns.


xShape Design

Express your creativity anywhere on any device from your Web browser with freeform Shape Sculpting and pattern design.


Project Planning

Organize your design work with team-based planning, monitoring and collaborative tasks with the Project Planning App combined with Collaborative Tasks.
CATIA V5 Connector

Bring your work done with CATIA V5 on the 3DEXPERIENCE Platform and enjoy the collaborative and cloud possibilities!
COLLABORATE AND MANAGE PROJECTS ON THE SAME ENVIRONMENT
In addition to the roles available, 3D Innovator Student takes advantage of the platform capabilities, you will find the following common roles:
3DSwymer – record your ideas in real time with the building blocks of our easy-to-use Platform. It connects you with your data, dashboards, communities, learning content and so much more, all-in-one single streamlined cloud platform. With integrated cloud storage and sharing capabilities, you'll always have your content right at your fingertips.
Collaborative Industry Innovator –  learn to innovate, organize, collaborate and manage in real-time like the pros with industry tools. It comes pre-loaded with best-in-class Product Data Management (PDM) apps, teaching valuable data management skills and preparing them for their future workplace.
Through these roles, you will be able to fully manage your projects directly from the web. Here is a preview of the available Apps inside:
| | | | |
| --- | --- | --- | --- |
| | 3D Dashboard: create, personalize and share multiple dashboards with extensible widgets/apps catalog | | 3D Compass: an intuitive, compass-like interface providing easy-to-use navigation to all apps (based on your available roles) |
| | 3D Drive: store, sync, share and preview any file on the cloud. It also allows light design review | | 3D Play: visualize your designs and review them in real-time |
| | 3D Swym: connect instantly in context, share designs and collaborate via Communities | | 3D Space: manage and share data, documents, related information |
More details
You can check all the apps available in 3D Innovator using our online store:
System requirements

3D INNOVATOR STUDENT is a full browser-based solution, you can use it from any device, any time, anywhere!
Even Macs, tablets and smartphones! All you need is an internet connection.